"Features are a nice to have, but at the end of the day, all we care about when it comes to our web and cloud security is architecture." – said no customer ever.
The fact is that nobody likes to talk about architecture when shopping for the latest and greatest cyber security technology, and most organizations have been content to continue fitting new security tools and capabilities into their existing traditional architectures. However, digital transformation projects including cloud migration and ubiquitous mobile access have revealed architectural cracks, and many companies have seen the dam burst with the explosion in remote access demand in recent months. As a result, organizations are coming around to the realization that digital transformation demands a corresponding network and security architectural transformation.
The Secure Access Service Edge (SASE) framework provides organizations for a model to achieve this transformation, by bringing network and security technology together into a single, cloud-delivered service that ensures fast, secure, reliable, and cost-effective access to web and cloud resources. In this blog we are going to focus in on remote offices and how the combination of SD-WAN and Next-Generation Secure Web Gateway capabilities offered by MVISION UCE can enable SASE and deliver on the promise of digital transformation. 
The Cloud and the Architectural Dilemma
In the past organizations were largely concentrated in a limited number of locations. Applications and data were hosted on servers at a central data center location on the local area network – typically at or near the headquarters. Users typically worked in the office, so they would also be located at the office and access corporate resources on the same network. Surrounding this network was a perimeter of security controls that could inspect all traffic going in or out of the organization, keeping trusted resources safe while keeping the bad guys out. Remote users and branch offices were logically connected to this central network via technologies like VPN, MPLS, and leased lines, so the secure network perimeter could be maintained.
While this approach sufficed for years, digital transformation has created major challenges. Applications and data storage have migrated to the cloud, so they no longer reside on the corporate network. Logic would dictate that the optimal approach would be for remote users and offices to have direct access to cloud resources without having to route back through the corporate network. But this would result in the organization's IT security perimeter being completely circumvented, meaning lost security visibility and control, leading to unacceptable security and compliance risks.
So network and security architects everywhere are facing the same dilemma: What is the best way to enable digital transformation without any major compromises? Organizations have generally followed one of the four following architectural approaches based on their willingness to embrace new technologies and bring them together: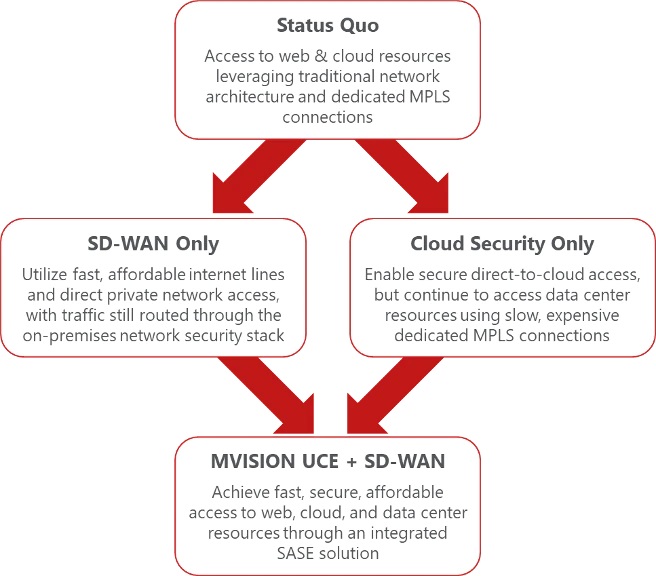 We're going to discuss these four options here, and evaluate them based on four factors: security, speed, latency, and cost. The results will show that there's only one way to achieve fast, secure, and cost-effective access to web and cloud resources.
Due to risk of losing security visibility and control, many organizations have refused to allow "direct-to-cloud" re-architecting. So even when high-speed internet links could connect users directly to cloud and web resources, this approach necessitates that all traffic still be pushed through slower MPLS links back to the corporate network, and then go back out through a single aggregated internet pipe to access web and cloud resources. While this theoretically maintains security visibility and control, it comes at great cost.
For starters, the user experience is greatly hampered by poor performance. Bandwidth suffers from the slow MPLS link back to the corporate office, as well as through the congested company internet connection. In addition, the extra network hops and increased network contention leads to high latency – this has been drastically amplified in recent months as the amount of remote traffic backhauling through the corporate network has exploded well beyond original design expectations. These factors don't even take into account the potential impact of service disruptions brought about by introducing a single point of failure into the network architecture.
In addition to poor performance, there is a tangibly higher financial cost associated with this approach. Multiple MPLS lines connecting branch offices to the corporate data center are considerably more expensive than public internet connectivity. Additionally, in order to accommodate the routing of ALL user traffic, organizations need to dramatically increase investment in their central network and security perimeter infrastructure capacity, as well as the bandwidth of the shared internet pipe.
So we're left needing to find a long-term answer to the challenges of speed, latency, and cost. These considerations are what have led many network architects to proceed to deploy SD-WAN.
Approacha 2: GOING DIRECT-TO-CLOUD WITH SD-WAN
The first step in delivering a cloud-ready architecture is removing the bottleneck incurred by forcing all traffic to be routed through slow MPLS lines to the central network and then back out to the cloud. SD-WAN technology can help in this regard. By deploying SD-WAN equipment at the edge of the branch network, optimized traffic policies can be created that route traffic directly to web and cloud resources using fast, affordable internet connections, while using the same internet connection to send only data center-bound traffic directly back to the corporate network over a dynamic set of VPN tunnels. WAN optimization and QoS, as well as various other edge network and security functions like firewall filtering that are better suited to being performed at the network edge, deliver the fastest and most reliable user experience, while minimizing the traffic burden on the central network.
By employing SD-WAN, network architects can achieve substantial cost savings by eliminating expensive MPLS links back to the corporate data center. Additionally, users aren't constrained by the much slower bandwidth of those MPLS lines.
However, there are major drawbacks to this model. While SD-WAN solutions feature a number of strong flow control capabilities that can be distributed to each remote site – including firewalling, DNS protection, and data obfuscation – they don't have the same robust data and threat protection capabilities that organizations have built into their network perimeter security. Therefore, architects still need to backhaul all traffic over the internet back to the data center, even if that traffic is ultimately destined to go right back out to the internet! So while the speed and cost-effectiveness of this connection is greatly improved in comparison to the old model, the need to continue backhauling traffic presents the same latency and congestion challenges.
Approach 2b: MCAFEE MVISION UNIFIED CLOUD EDGE
So if traffic paths need to run back to the corporate data center for organizations to maintain security visibility and control, but the majority of resources users are accessing are in the cloud, wouldn't it make sense to situate the security controls in the cloud a more direct and secure traffic path? Enter McAfee MVISION Unified Cloud Edge.
MVISION
UCE's Next-Gen Secure Web Gateway provides a cloud-native, lightning-fast, 99.999% reliable, hyper-scale secure edge. By converging SWG, CASB, and DLP, and Remote Browser Isolation technologies, MVISION UCE ensures that remote users and offices enjoy the most sophisticated levels of threat, data, and cloud application protection, as well as unique proactive risk management capabilities  that even exceed what is possible in a traditional
on-premises security framework.
Just as important as the advanced security capabilities is the fact that MVISION UCE is
built on a fast, reliable, scalable foundation. Thanks to a global Point of Presence (POP) network and unique peering relationships, MVISION UCE can extend a hyper-scale secure edge wherever users need it. Despite a 240% surge in traffic during the spring of 2020, McAfee was able to maintain 99.999% availability and met all of the latency requirements stipulated in our SLAs. Organizations could count on our infrastructure in the toughest of times, and can continue to do so going forward.
By subscribing to an affordable public internet connection at the branch site and connecting to MVISION UCE, customers can achieve many of the desired benefits. MVISION UCE's comprehensive data, threat, and cloud application protection capabilities more than satisfy security requirements. And for the majority of user traffic that is destined for the web or cloud, the direct internet connection ensures fast, low-latency access.
However, without deploying SD-WAN in conjunction with UCE, organizations still need to have those slow, expensive MPLS links to maintain connectivity to their legacy data center applications and resources. Therefore, customers won't be able to realize cost savings, and those connections to data center resources will suffer the same speed and latency challenges. And that is where we finally arrive at the ideal cloud security architecture, bringing MVISION UCE together with SD-WAN.
Approach 3: MVISION UCE + SD-WAN = SASE
By bringing together MVISION UCE with SD-WAN in a seamlessly integrated solution, organizations can deliver SASE and build a network security architecture fit for the cloud era. McAfee makes it possible for customers to easily converge MVISON UCE with virtually any SD-WAN solution via robust native support for SD-WAN connectivity, leveraging industry standard Dynamic IPSec and GRE protocols. Through this integration, customers benefit from the complete range of essential SASE capabilities, with SD-WAN providing the integrated networking functionality and MVISION UCE delivering the security capabilities. McAfee has supported our channel partners in successfully delivering joint SD-WAN-cloud SWG projects with many of the major SD-WAN vendors in the market, and we have forged tight alliances with the industry leaders through our Security Innovation Alliance (SIA).
So how does a combined UCE-SD-WAN solution satisfy the four architectural requirements? Security is clearly addressed by UCE's threat, data, and cloud application protection capabilities, as well as the distributed firewall capabilities delivered by SD-WAN. By using a single fast internet connection, SD-WAN is able to intelligently and efficiently route traffic directly to cloud resources or back to the corporate data center. With MVISION UCE providing security directly in the cloud, SD-WAN can forward web- and cloud-bound traffic directly, without any excessive latency. Cost savings come from removing the expensive MPLS lines, and since the majority of traffic no longer needs to backhaul through the corporate data center, additional savings can be achieved by reducing central network bandwidth and infrastructure capacity.
Build a Cloud-Ready Network Security Architecture Today
Digital Transformation represents the next great technological revolution, and organizations' ability to move to the cloud and empower their distributed workforces with fast, secure, simple, and reliable access will likely determine how successful they are in the new era. SASE represents the best way to achieve a direct-to-cloud architecture that doesn't compromise on security visibility & control, performance, complexity, or cost. By seamlessly integrating our MVISION UCE solution with SD-WAN, it's never been easier for organizations to deliver SASE to remote offices. As a result, users will benefit from greater productivity, IT personnel will enjoy greater operational efficiency, and companies will enjoy exceptional cost savings as a result of consolidated infrastructure and optimized network traffic.
Learn more about data security
with the experts.