2:00 PM – 4:00 PM | | SG, MY, PH
Discover how to accelerate your creative pipeline production, come hear from our guest speaker Ewik from Brown Bag Films Bali. On how they, through the usage of Maya and Arnold as their go-to renderer has helped them accelerate and improve design changes during the filming of "Angela's Christmas Wish".
Learn about the speed and capability of Arnold rendering capabilities that has helped Brown Bag Films Bali deliver beautiful and predictable results, letting them focus on being creative, rather than hours going through settings.
Tips and Tricks in Autodesk Maya
Accelerate your pipeline with Arnold rendering capabilities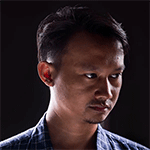 Brown Bag Films Bali
Barikly or usually called Ewik, graduated from Interior Design major in Institute Technology of Bandung. He starts his career in the animation industry in 2012 as 3D Render Artist and following his passion, he is consistently developing his career path until now as the Lead of 3D Lighting in Brown Bag Films Bali, Indonesia.
Ewik actively involves and in charge of the look development of the 3D animation project. His main role is making sure the last look of the show is up to the project's need artistically as well as technically affordable. Ewik has been working on more than 10 international 3D animation projects with varied requirements and challenges include the most recent projects for Netflix such as Angela's Christmas Wish, Karma's World, and Ada Twist.