65" Advanced Interactive Display
Our WR series of Hisense Interactive Digital Display include the latest smart features to improve collaboration and create a leading engaging experience for users. The new WR series is available in 3 sizes (65", 75", 86") and their 4K Ultra HD picture quality ensures perfect colour and rich detail. They are touch enabled allowing multiple people to use them at once to present, illustrate and share information. When using the digital whiteboard, our improved IR software now recognises touch points as little as 2mm ensuring the experience is as accurate as writing with pen and paper. New for 2022, the WR range features an optical bonded display that diffuses reflections and bright light to keep the display visible in any lighting conditions. Users can also now wirelessly connect with two or more additional Hisense displays.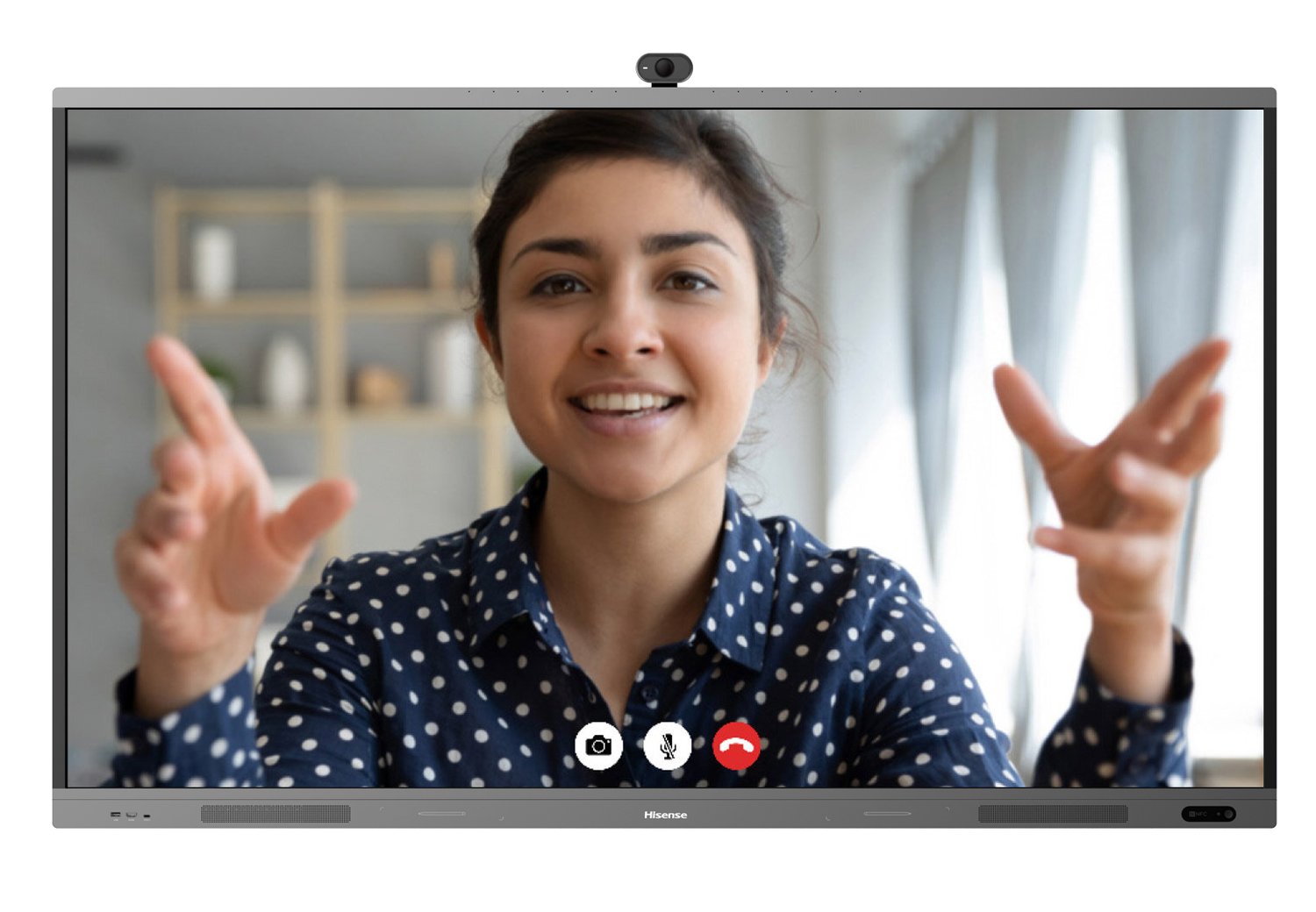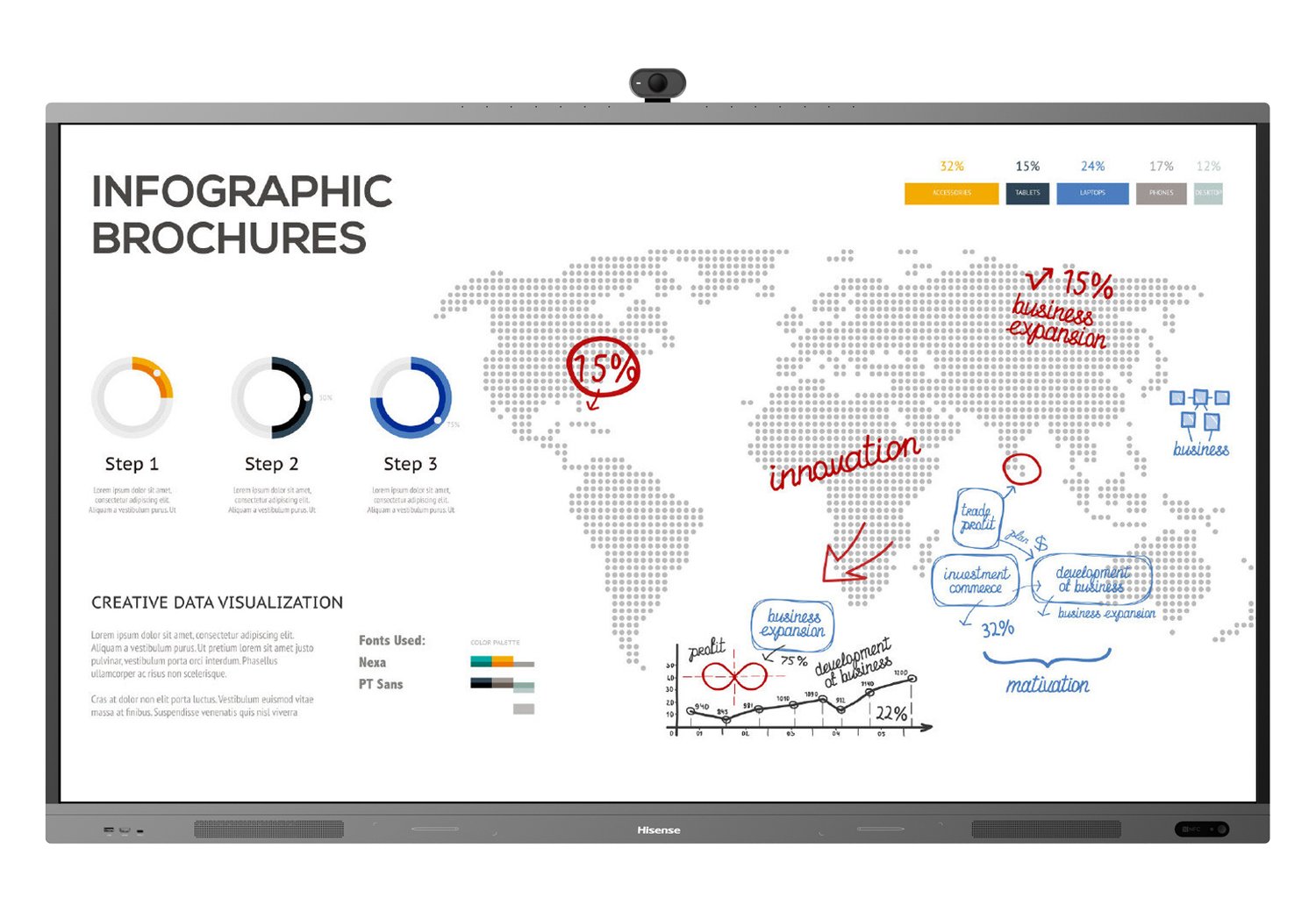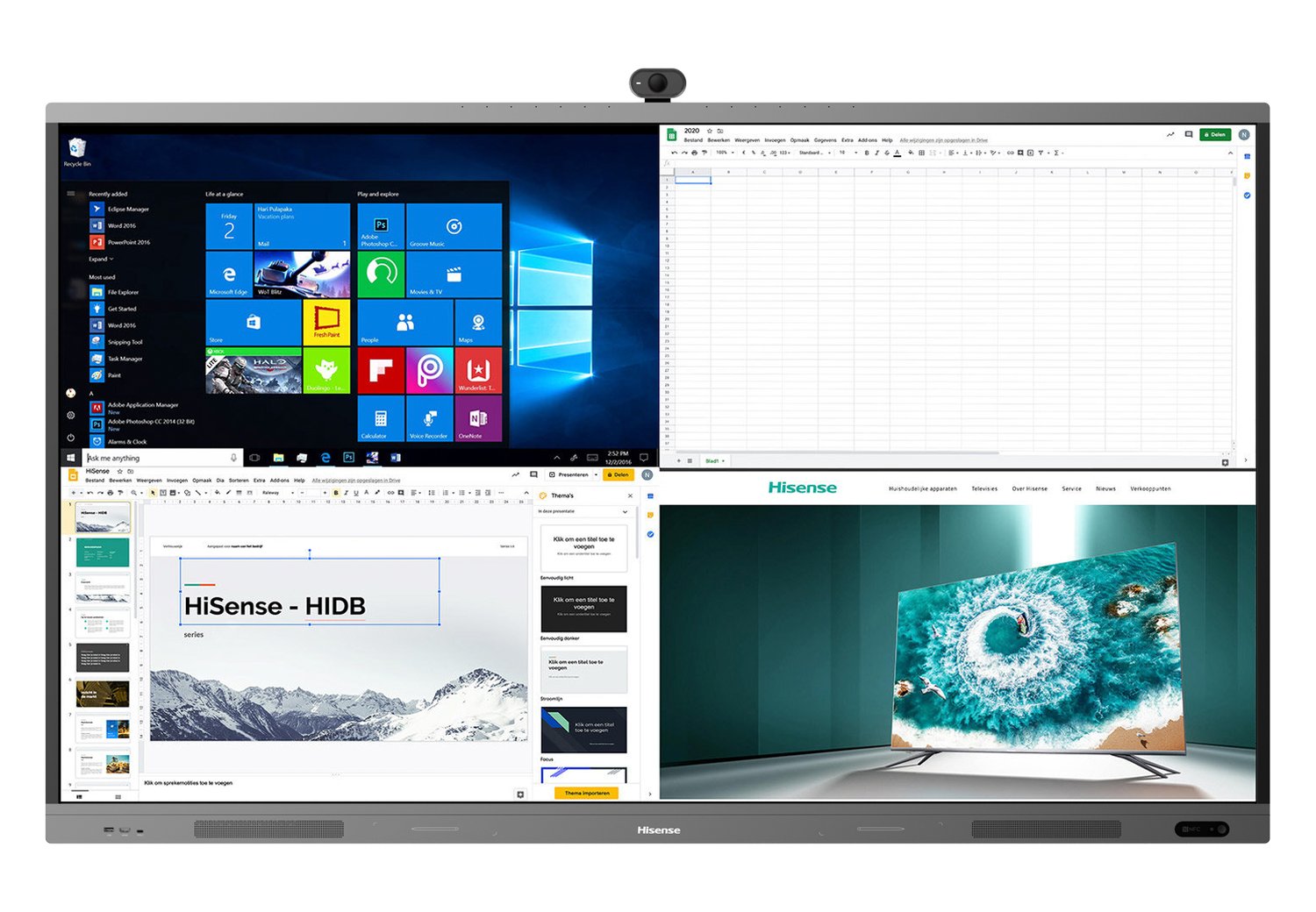 Interactive Display panel
Size: 65''
Backlight: D-LED
Resolution: 3840 x 2160
Brightness: 350cd/m²(typ.)
Contrast ratio: 1200:1 (typ.)
Response Time: 8ms
Refreshing Frequency: 60Hz
Viewing angle: 178°(H) / 178°(V)
Lifetime: 30,000 hrs
Color Gamut: 85%
Display Colours: 1.07B(10bit)
System
OS: Android 8.0
Speaker
Audio Output Power: 2x15W/8Ω
Connectivity
Input: HDMI IN x 2, DP IN x 1, OPS(optional) x1, LAN x 1, USB x 4 (1 for Camera), Type-C x 1, Touch x 1, RS232 IN x 2 
Output: HDMI OUT x 1, S/PDIF OUT x 1, Audio OUT x1 
Power
Power Requirements: AC 100 V ~ 240 V, 50/60 Hz
Power Consumption Without OPS: 270W
Touch
Sensing Type: Infrared Touch Frame
Surface Protection: 4mm Anti-Glare Glass 
Infrared Touch: ≤20 points
Touch Accuracy: 90%(±1mm)
Response Time: ≤8ms
Physical
Housing Color: Black 
Product Size (W x H x D): 1497 x 915 x 100mm 
Package Size (W x H x D): 1720 x 1110 x 240mm 
Net Weight: 37kg 
Certification
Standard Certification: CB,CE,cTUVus,CEC,FCC,ICASA
EAN: 6973172940853
What's in the box
User manual
Stylus Pen x 2
Remote control
Hanging Wheel x 4
Wireless Cast x 1
Power Cable
Battery x 2
Wall Mount Bracket x 1
Hisense's WR Interactive Digital Boards (65"/75"/86") have been designed to facilitate inspirational knowledge sharing in both business and educational environments. They are touch enabled and multiple people can use them at once to present, illustrate and share ideas and information. Creating a collaborative, communicative and interactive atmosphere that will make user-groups thrive.
Besides connecting your laptop through regular cabled methods, you can also connect with one touch using the included dongle. Plug it into your laptop and the content will instantly show on the board through fast and stable transmission (supports iOS / Android / Windows / Mac). Or choose for even less effort and connect your smartphone or tablet using the hotspot function of the Interactive Digital Board.
Hisense's WR series has certified its compatibility with mainstream video conference software, such as Cisco Webex, Zoom and Microsoft Teams, to bring you an integrated remote video experience. No need to set up eliminating a waste of time to set up or change input on incoming calls, breaking the time and distance restrictions, opening an efficient meeting anytime and anywhere depends on what you want.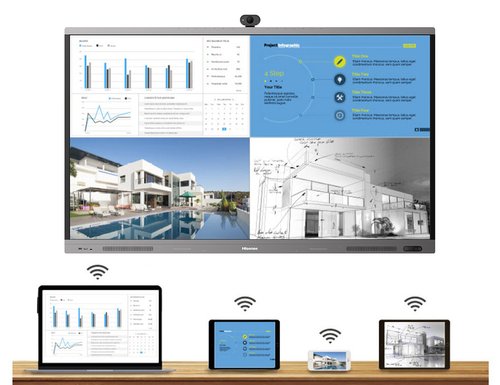 During a meeting two files can be shown, compared, switched, zoomed, turned or annotated at the same time. And besides supporting two-way mirroring and two-way touch Hisense's WR series also enable four-way Split Screen. This will allow up to 4 devices to present simultaneously so everyone's ideas can be shared
1080P Transmission – Transfer Delay 65ms Transfer Distance up to 15m 30FPS Transmission Supports 5GHz ban
EASE OF USE FOR LECTURER AND AUDIENCE
Drawing and content recognition
Hisense's WR series is equipped with intelligent drawing recognition technology, which recognizes squares, circles, triangles, arrows, line segments, etc. In addition, you can draw a table on the screen and the table will adapt its size along with the touch-written content.