the MITRE ATT&CK® Framework proves that authority requires constant learning and the actionable information it contains has never held greater currency. Likewise, XDR, the category of extended detection and response applications, is quickly becoming accepted by enterprises and embraced by Gartner analysts, because they "improve security operations productivity and enhance detection and response capabilities." 
It is less well known how these tools align to improve the efficacy of your cybersecurity defenses leveraging key active cyber security industry frameworks. In MVISION XDR there's a dynamic synergy between the MITRE ATT@CK Framework and XDR. Let's consider how and why this matters.
One of the biggest issues with XDR platforms, according to Gartner, is a "lack of diversity in threat intel and defensive techniques." By aligning our XDR with MITRE, we greatly expand the depth of our investigation, threat detection, and prevention capabilities while driving confidence in preventing the attack chain with relevant insights.  
With MITRE ATT&CK Framework in the hands of your incident response teams, you're utilizing a definitive and progressive playbook that articulates adversarial behaviors in a standard and authoritative way.
The Framework is a valuable resource that contains a knowledge base of adversarial techniques that security defenders can reference to make sense of the behaviors (techniques) leading to system intrusions on enterprise networks.
In MVISION XDR, this synergy results in a shared source of truth. Adding MITRE ATT&CK into your SOC workflow is essential for analysts who need to conduct a thorough impact analysis and decide how to defend against or mitigate attacks. 
Here are five powerful ways that XDR applies MITRE ATT&CK and helps operationalize the framework: 
At first glance, the MITRE ATT&CK framework matrix, with its myriad of sub-techniques, reads like a checklist of concerns for your SOC analysts to evaluate. But approaching threat analysis or investigations that way may lead to a form of tunnel vision. Knowing that an attacker is not just limited to one set of techniques, MVISION XDR boosts your team's efficacy by covering the entirety of the matrix including device, network, and cloud detection vectors.
MVISION XDR also increases your team's situational awareness by making it easy to map and correlate tactics, techniques and procedures (TTPs) directly to MITRE ATT&CK information. XDR supplies visualizations that reduce the burden on analysts to identify patterns and assess the recommended prevention guidance. 
As we've pointed out on other occasions, MVISION XDR can chain MITRE ATT&CK techniques into complex queries that describe behaviors, instead of individual events. MVISION XDR is hypothesis driven, utilizing Machine Learning and Artificial Intelligence to analyze threat data from multiple sources and map it to the MITRE ATT&CK framework. 
Increasing the efficacy of your SOC team analysts, incident responders and other members of your team is obviously critical to producing smarter and better security outcomes including faster time to detect (MTTD) or remediate (MTTR). MVISION XDR also boosts team productivity and drives more accurate prevention by automating security functions like detection or response.  
Armed with actionable intelligence your team can proactively harden the enterprise before an attack. When Gartner states that "The goal of XDR is improved detection accuracy and security operations center (SOC) productivity" we tend to think that integrating MITRE ATT&CK framework sets the standard in our competitive set. 
At the end of the day, this winning combination of MITRE ATT&CK and MVISION XDR offers the C-level and Board sufficient level of evidence of resilience. A vibrant information exchange must be a two-way street. We work closely with the MITRE team and actively contributes to the development of new matrices to empower the broader MITRE ATT&CK community. ​ 
Hear more from a SOCwise expert on why MITRE matters.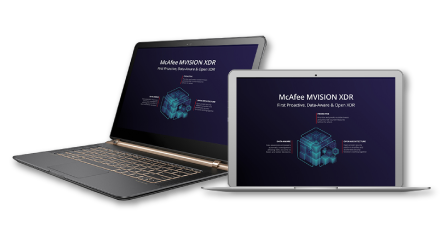 An Innovative approach to detection and response