Storage planning today means investing in an ecosystem that supports multiple technologies. The winning vendors will create integrated delivery models that obviate the differences between particular technologies.
 What's the future of storage? Is it internal server-based/software-defined? Hyperconverged? All-flash arrays? Cloud? Hybrid cloud?
Over the next few weeks we're going to spend some time going over all of these different technologies and examining why each is viable (or not). But for now, I'm going to go ahead and give you the short answer: All of the above. 
External storage consolidation
Let's start with the current state of external storage. Many recent stories and analyst reports have noted a decline in external storage revenues. Notably, IDC found that sector revenues dropped by 7 percent year over year in the first quarter of 2016, according to its most recent Worldwide Enterprise Storage Systems Tracker report.  

The headline numbers don't lie, but they don't tell the whole story either. In fact, I'm going to tell you that painting external storage with a brush of decline might actually be an irresponsible stance. The real story is less about decline and more about consolidation. Look what happens when we break down the numbers by array type. The table below presents IDC's estimates of annual revenue growth in different segments of the storage market (ODM Direct excluded):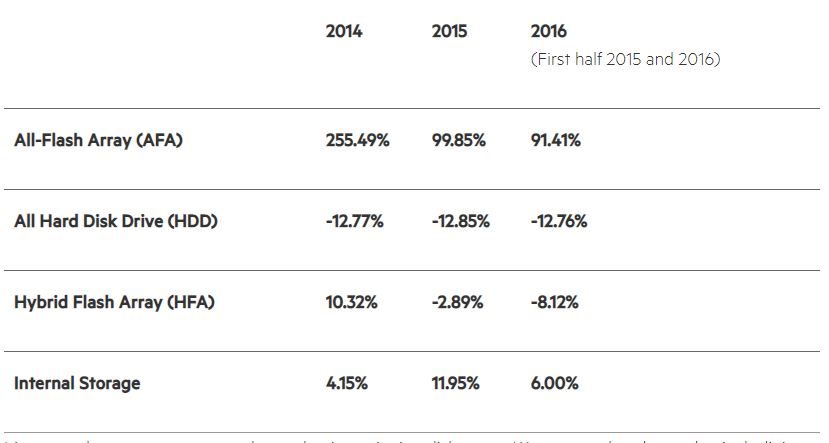 It's pretty clear customers are no longer buying spinning disk arrays. We can see that the market is declining steadily, at almost 13 percent over the past three years. And we can also see that hybrid arrays began to decline in 2015, with that decline increasing into 2016.
But sales of all-flash arrays (AFAs) grew by more than than 90 percent over the same time frame. Not only is the market alive and well, it's also healthy and thriving. I don't think anyone would dispute some of the obvious reasons for these trends. In comparison to their HDD predecessors, AFAs:
Are more efficient and more powerful
Offer a lower cost per GB through data reduction technologies
Have significantly better power and cooling costs
Feature much simpler management profiles, which makes transitioning to them a breeze
We might actually be in the midst of the biggest consolidation the external storage market has ever seen. So the real question should be: Why didn't anyone predict this?
The storage market was always bloated and overvalued. Every single array that has spinning disk in it right now has more capacity and is taking up more space than needed. That's why data reduction is one of the most important requirements when considering an AFA. Worldwide, IT organizations are trying to reduce bloated storage footprints and ensure that they don't become bloated again.
When you consider all the other benefits of flash, it's easy to draw the conclusion that it's only a matter of time before AFA growth overcomes the decline of HDD and hybrid arrays.
Internal storage innovation
Meanwhile, internal storage innovation continues to spur the software-defined conversation. Looking at the annual revenue growth table above we can see some unpredictability in internal storage growth, but it is most definitely growing. By the end of 2016, the internal storage market will reach nearly $9 billion, according to IDC.
There are many reasons why internal storage is taking off:
These hardware advances make it easier to handle more and more within the server. And as a result, there's been no shortage of software-defined storage solutions out there. I can count at least 13 software-defined vendors that are worth a conversation.
These discussions should always focus on workloads, even if vendor marketing strategies try to inhibit customers from considering this point. Because different storage technologies perform differently for particular workloads and use cases, software-defined and all-flash address discrete though overlapping market segments of the market.
The hyperconverged (HC) market is growing more than 140 percent year over year, according to IDC. That growth definitely emboldens the hyperconverged vendors, of which HPE is one. You may seesome post-Halloween "marketing monsters" out there describing hyperconverged as the solution for pretty much everything from virtualization to keeping the ketchup cap free of old ketchup gook. 
But is this growth sustainable? By the end of 2015, the all-flash array market was three times bigger than the hyperconverged market. And that gap has a good chance of widening by the end of this year, when the HC market should top $1 billion for the first time. On top of that, the internal storage market will likely grow to nine times the size of the HC market over the same period.
So the question becomes: What does hyperconverged bring to the table that AFAs and software-defined, server-based storage do not? Some HC-specific vendors will talk about virtualization integration or management or provisioning, but most AFA vendors and all software-defined vendors offer the same, if not deeper, integration with virtualized infrastructure. HC advocates rightly highlight the simplicity of the infrastructure-in-a-box approach HC offers. In my opinion, this is the most important reason for its growth. But HC customers also need to make sure they're not buying a dead end.
That's really the main point here. Yes, HC is growing, but so are the AFA and internal storage markets, and those markets are decidedly bigger. I'm not trying to throw cold water on the growth of the HC market, but I do want to take a longer view. Today's hyperconverged workload might well be tomorrow's software-defined workload and next week's all-flash workload.
Bottom line: Customers must ensure they're investing in solutions that will carry their workloads across technologies and platforms as the overall storage market evolves.
I think we can see exactly where storage is going, and we have a pretty good handle as to why. We know that the market was bloated and overinflated. We know it's consolidating, and we know that emerging technologies like hyperconverged and internal server storage aren't keeping up with AFA hypergrowth. We also know it doesn't matter. The future of storage isn't going to be any one specific technology. After all, both hyperconverged and all-flash have already surpassed their total 2014 revenues. 
A mix of technologies will define the future of storage. Yes, all-flash will own the lion's share. Yes, all-flash will be the 800-pound gorilla. Yes, all-flash will be the [insert aggressive animal analogy] of the storage market. But emerging technologies like hyperconverged will remain relevant for the foreseeable future. Most likely, software-defined/internal storage has an even brighter future.
It's critical for vendors to keep up with the storage market as it evolves from primarily external storage to a world of internal storage coupled with software and external storage. Storage planning today means investing in an ecosystem that supports multiple technologies. The winning vendors in this space will create integrated delivery models that obviate the differences between particular technologies. 
The future of storage: Lessons for leaders