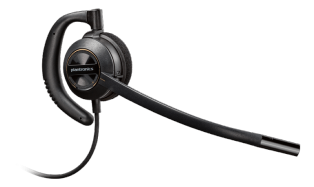 The lightest headset in its class with an all new over-the-ear design.
PREMIUM IN ALL THE RIGHT PLACES
The Plantronics EncorePro 500 headset series is an all-new generation of headsets for customer service centers and offices, designed for the future, and built on experience. Three innovative models deliver greater comfort for all-day wearing, superior noise-canceling for clearer calls, and increased reliability so conversations can continue without worry. And they'll help you meet the OSHA / Noise at Work regulations.
LIGHTWEIGHT DESIGN MATCHES STYLE AND PERFORMANCE
Introducing the Plantronics EncorePro 530, our all-new, over-the-ear design that's an ideal choice for customer service and busy office environments where you need a headset that's easy to put on and take off. The lightest headset in its class, the Plantronics HW530 delivers high-quality audio, a flexible mic with visual positioning guides, soft ear cushions, and lightweight materials for all-day wearing in a durable over-the-ear style.