An appropriate storage selection is one of the key factors to consider when planning to deploy or optimize Virtual Desktop Infrastructure (VDI) solutions. Central repositories are often used as VDI storage solutions when working with templates and cloning techniques; however, hypervisors themselves often have enough local storage to allocate virtual machines (VMs). This blog post describes how Parallels® Remote Application Server (RAS) introduces a user-friendly wizard to configure template replication among the local storage of multiple Microsoft Hyper-V providers easily.
Why Is VDI Storage an Essential Factor for VDI Performance?
Selecting the right storage solution is essential when it comes to guaranteeing optimal performance of your VDI infrastructure. When choosing storage, the input/output operations per second (IOPS) value is a key indicator to be considered, since it measures how fast read/write access is made to the disk. Additionally, IOPS has an impact on other crucial aspects, including the time it takes for a template to be cloned or a virtual machine to start up and run applications.
Apart from storage, other important factors also need to be considered:
Network: Within a VDI infrastructure, virtual machines are permanently active. Applying common network optimizations such as network segmentation will improve the performance of the whole virtualization solution.
Antivirus: A proper configuration of antivirus software is essential to avoid hindering the performance of a virtual machine. Virtualization-aware antivirus solutions are designed to run efficiently over virtual environments while ensuring maximum protection.
Virtual machine optimization: Certain configurations can be applied to operating systems, such as reducing the number of running services or disabling unnecessary features, which in turn optimize virtual machine performance, thereby enhancing the user experience.
Why Should You Use Template Distribution to Local Storage?
Distribution to local storage provides organizations a cost-effective alternative to well-known and expensive central repositories such as the storage area network (SAN). Physical nodes typically use solid-state drive (SSD) disks, which enhances performance in terms of disk read/write access. In addition, isolating VDI or Remote Desktop Session Host (RDSH) workloads onto local storage while leaving other services in central repositories prevents any performance cross interference.
What Are the Prerequisites for VDI Template Distribution to Local Storage?
The prerequisites for using the template distribution functionality provided by Parallels RAS are listed below:
You should have standalone Microsoft Hyper-V Server 2012R, 2016 or 2019.
All target VDI providers must have an identical:

Provider type and subtype.
Folder path for guest VMs to reside.
Virtual switch name to which guest VMs are connected.

Hyper-V hosts must be domain-joined.
Enough storage space should be available prior to choosing target hosts. Templates will be distributed to and clones will be created on these target hosts.
Hyper-V settings must have Kerberos authentication enabled and the appropriate delegations configured in Active Directory.
How Do You Configure VDI Template Distribution to Local Storage?
For this example, we will use two standalone Windows 2016 Hyper-V Servers: H01.RASLAB.lab and HV02.RASLAB.lab. We will create a virtual machine named W10Master in HVM01 and replicate it automatically to HVM02 using the template distribution functionality provided by Parallels RAS.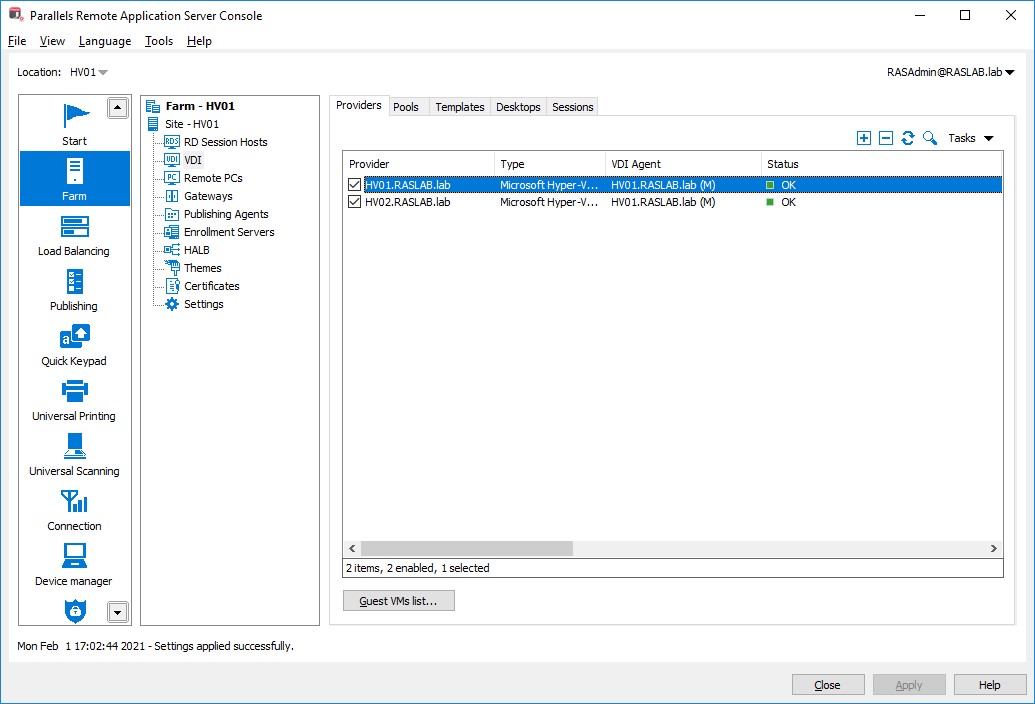 Kerberos Authentication and Delegations in Active Directory
To enable Kerberos authentication and configure the appropriate delegations in Active Directory:
Go to Hyper-V Settings for the host machines. Click on Advanced Features under Live Migration. Choose the Use Kerberos option under Authentication protocol.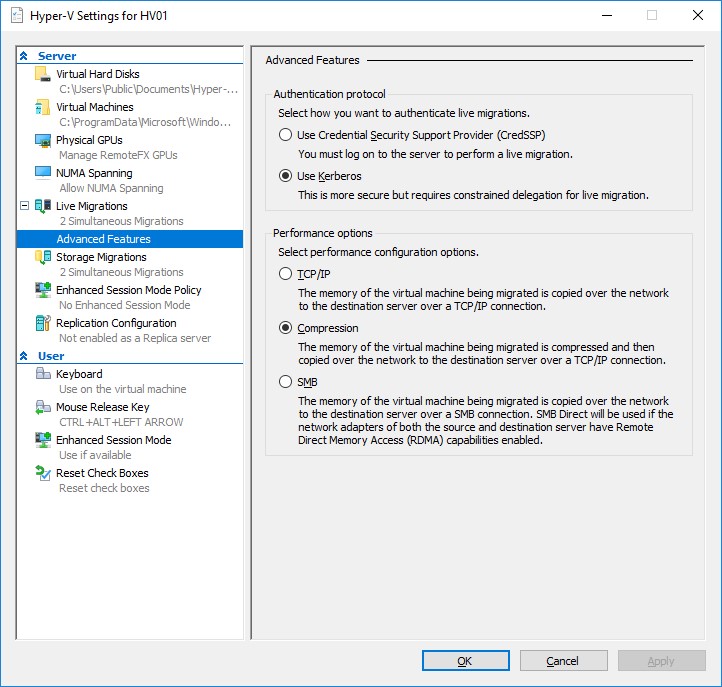 Go to Active Directory Users and Computers. For each Hyper-V host server, click on the Delegation tab and click on Trust this computer for delegation to specified services only,and Use Kerberos only. Then enable delegation for both cifs and the Microsoft Virtual System Migration Service for all servers you want to migrate to and from.
Note: If authentication isn't working, try changing the Use any authenticati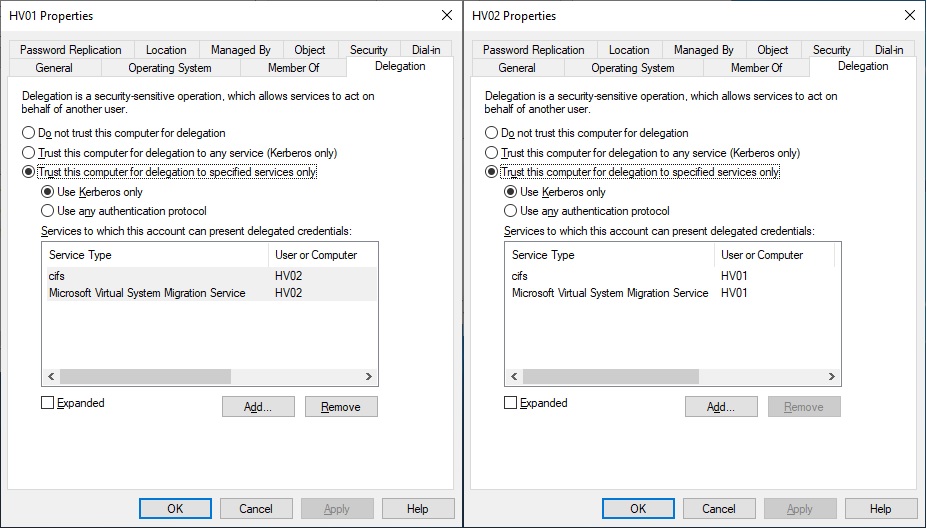 VDI Template Distribution
Templates are used to automate the creation and deployment of guest VMs in Parallels RAS. To enable and configure VDI template distribution, follow the steps shown below:
Open the Parallels RAS Console.
Select the Templates tab in the VDI section.
Click on the Add option from the Tasks drop-down menu, and select a machine from the Virtual Guests List.
Complete the Type, Check Agent, General and Additional pages of the wizard according to your needs.
Configure the template distribution settings on the Distribution page.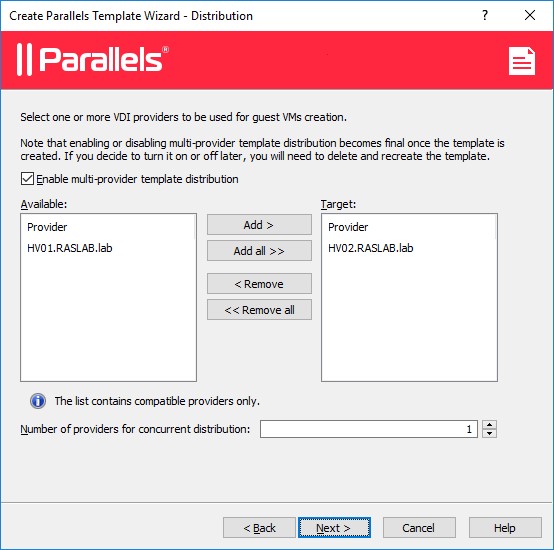 Select the Enable multi-provider template distribution checkbox to allow template distribution among multiple Microsoft Hyper-V providers.
In the Available list, select one or more providers, and click Add (or Add all to add all available providers). Note that only providers of the same type and subtype as the source VM are displayed in this list.
In the Number of providers for concurrent distribution field, specify the number of concurrent distribution operations. The number indicated here dictates how many network copy operations should be started at the same time. The larger the number, the more network resources are required.
Once you have finished the Create Parallels Template Wizard, click on the Templates tab to monitor the template distribution status.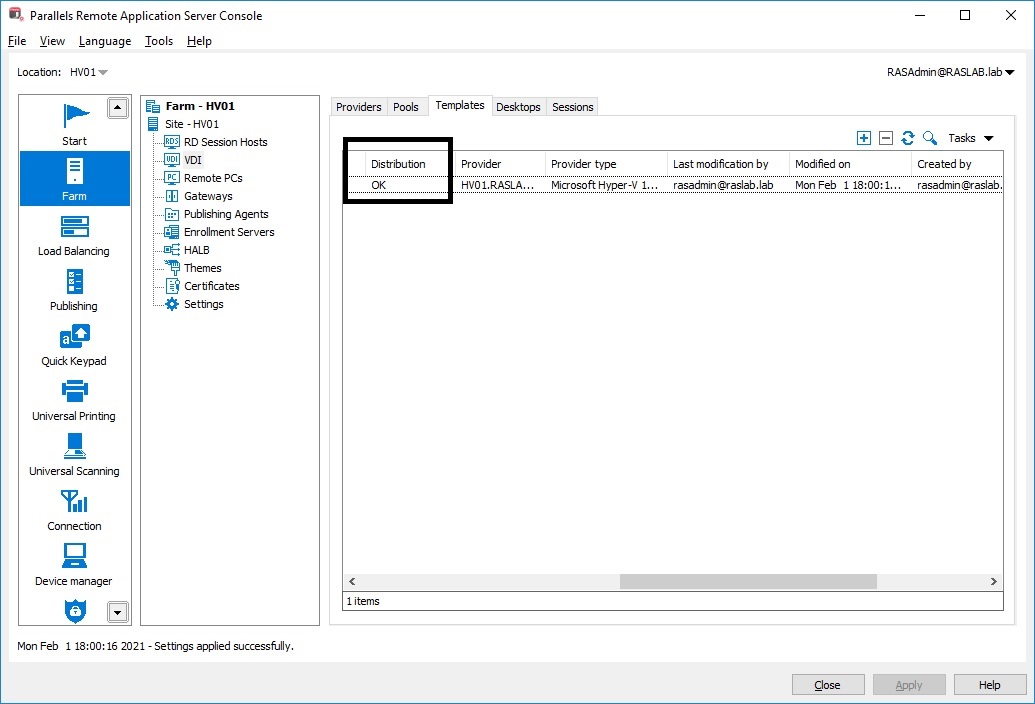 The template replication status is displayed within the Distribution column and may contain the following values:
Distributing: The distribution is in progress (the template is being distributed to target hosts).
OK: The template has been distributed successfully to all specified hosts.
Removing/Adding provider: A VDI provider is being removed or added.
Failed to distribute: Indicates that an error has occurred during the distribution operation.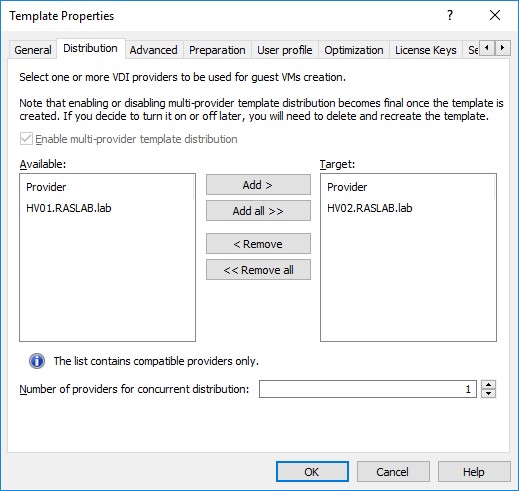 The Enable multi-provider template distribution setting cannot be modified, selected or cleared once the template is created. If later you decide to turn it on or off (enable or disable the feature), you will need to delete and recreate the entire template. However, you can also add or remove a VDI provider to/from a distribution list at any time using the Template Properties dialog. To open the dialog, right-click on a template from the VDI > Templates tab, choose Properties and then select the Distribution tab.
VDI Infrastructure Optimization with Parallels RAS
ides administrators the capability to manage a single template and replicate it to the local storage of distinct VDI Microsoft Hyper-V providers, thus optimizing resource usage and avoiding the maintenance and management of multiple templates.
The Parallels RAS automated image optimization feature includes more than 130 built-in, pre-configured optimizations to provide organizations an efficient and streamlined delivery for virtual applications and desktops while optimizing resource performance and ensuring an enhanced user experience.

Sources: https://www.parallels.com/blogs/ras/vdi-storage/