BricsCAD® Pro offers civil engineers smooth, efficient workflows. With solutions made specifically for civil engineering projects, you can speed up your process while ensuring high-quality, accurate results. Civil engineers can use BricsCAD Pro for each project stage, providing you with a range of tools to make your work easier, end to end. So let's start at the beginning – preliminary design!
BricsCAD Pro for Preliminary Design
BricsCAD Pro features specific design tools to streamline your civil workflows. Let's take corridors, for example; if you're designing a preliminary corridor in BricsCAD, you don't need to wade through a library of features to find the one you need. Instead, you can create and model corridor designs using the alignment and corridor template tools for linear objects like roads, cycle paths, and retaining walls.
Polylines are combined to create a template, and BricsCAD Pro's templates allow you to quickly and easily apply a template to a 3D alignment and choose the most suitable template, depending on your project's requirements.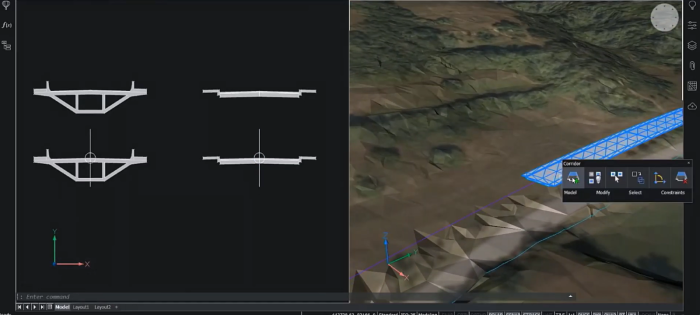 Meanwhile, the parameters pane lets you edit a 3D-generated object, and when you update the original template, your 3D object also updates in real time. So, you can input any additional infrastructure you might need in a few minutes – reducing tedious tasks and saving you time.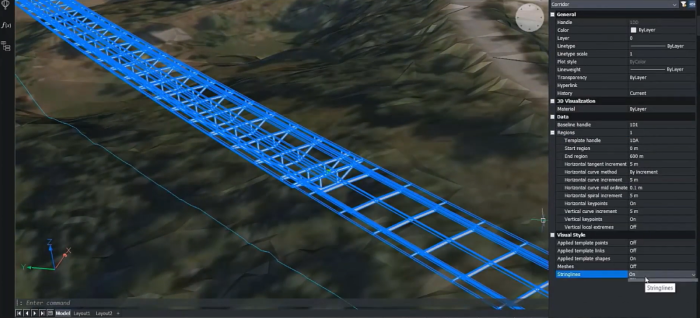 TIN Tools for Site Grading and volume calculations
When unreliable plans could mean extra costs down the line or potential safety issues – accuracy is key! If you're a civil engineer, you are more than familiar with the challenges of generating accurate site grading, but with BricsCAD Pro, you can speed up your process without sacrificing accuracy.
BricsCAD Pro also intelligently filters point cloud data when creating a TIN surface, resulting in a lightweight TIN that won't slow your workflow. We have made it simple to optimize the site design process and get the layout of complex topographies just right – saving precious prep time. You can import a TIN surface, create a graded surface, calculate infill, and take off volumes in a few clicks. When you import a TIN surface into a model in BricsCAD Pro, you can apply GIS imagery to create a 3D landscape to work from.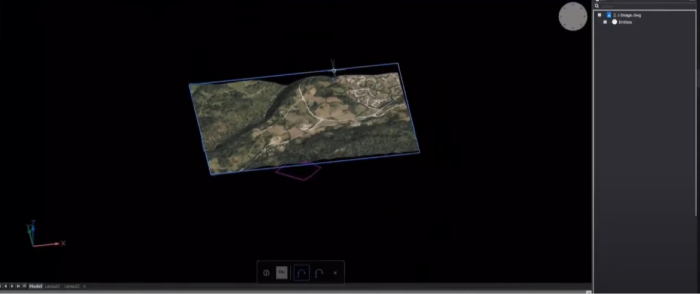 Editing your model is a cinch with BricsCAD Pro's civil features. If you need to adjust the surface, use the MODIFYTIN tool. Do you need to calculate volume? Use the TINVOLUME command – you can also use feature this to calculate any changes between the original and modified surfaces. The properties panel lets you view the TIN volume surface statistics for cut and fill values and other properties like contour lines.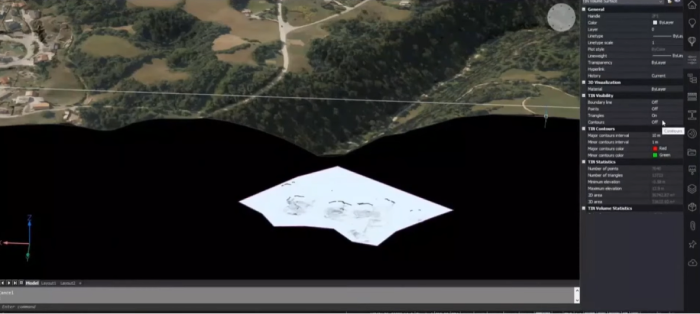 Site Design and Layout: Civil Site Design in BricsCAD Pro
BricsCAD Pro has several tools and options for adding partner apps that civil engineers can benefit from. BricsCAD and Civil Site Design is a stellar combination when you're designing the site and its layout.
Using BricsCAD Pro with Civil Site Design, you can automate site layout and design processes with intelligent objects to handle common road subdivision design elements like intersections, curb returns, cul-de-sacs, roundabouts, and knuckles – as well as tools for driveway clearance!
This integration is customized specifically for civil engineers, giving you the tools you need to deliver plans quickly.
Curb returns automatically and dynamically position themselves horizontally and vertically to the intersecting roads.

Localized road widening for bus stops and waiting areas can be easily achieved using the knuckle tool, which creates a localized widening that stays attached to the road as you make design changes.

Cul-de-sac design can be parametrically driven, supporting circular, asymmetric, teardrop, Y, and T-shape configurations.
Do you need to design drainage systems? The pipe design module lets you quickly lay out your design with simple polylines. The module assigns pipes and structures that will automatically generate your network. At the same time, BricsCAD displays any obstructions from other utilities and is color-coded based on minimum clearances, giving you a clear overview of your design.
Civil Site Design generates your profiles, plans, profile sheets, and cross sections, and you can also apply materials and boundaries to triangles for quick visualization and export to other packages. By linking to the BricsCAD Sheet Set Manager, you can choose from a wide range of label styles and modify them to suit your drafting needs best. Civil Site Design in BricsCAD Pro lets you view your 3D model as you work on the design and incorporates every change you make into your 3D model, so you can view any adjustments in real time.
With BricsCAD Pro, civil engineers gain the edge with faster and more efficient production of their deliverables, removing the tedious tasks from everyday work and reducing the overall amount of time it takes to deliver a project. If you're a civil engineer, BricsCAD Pro has got you covered from the very beginning of your project right through to the end – optimizing your workflows and speeding up your processes without sacrificing accuracy!