An intuitive and powerful 3D modeling software, SketchUp Pro lets you bring whatever you can envision into life. SketchUp Pro 2022 introduces a series of new and outstanding tools and features built to help its users design their models with ease and get more jobs done.
How to Avail SketchUp Trial Period?
SketchUp trial covers everything in SketchUp Studio. To avail trial period, you need to:
First, create a Trimble ID to sign in to any subscription applications. 

Second, download and install SketchUp Pro.

Third, launch the application and log in with your Trimble ID. 

Upon successful log-in, you can finally click the option to "Begin Trial.
How to upgrade/renew SketchUp Pro?
To upgrade your SketchUp subscription look up your license information first, and then:
Verify whether or not you can use the SketchUp Pro License Wizard. 

Purchase an upgrade at the SketchUp Pro License Wizard. 

Afterward, you'll see the new license information and a link to download the latest version of SketchUp Pro at your email. 

Using the new license information, download, install and authorize the SketchUp Pro.
If you need a SketchUp renewal and your Maintenance & Support Plan is already active, all you need to do is download the new version and apply for your new license sent to you via email.
What's new in SketchUp Pro 2022?
SketchUp Pro 2022 holds a range of new features and vital changes for an enhanced user experience and improved quality builds. The highlights from the latest release include:
Start your SketchUp in a new way. With PreDesign, the natural and built environment works harmoniously. Before you start designing in 3D, users can now lay the right groundwork by accessing climate insights.
Better model organization
This helps in building a strong model foundation. In Tag Filtering, users can find aspects of their model easily. Tag Folders also prevent cumbersome and endless lists of tags.
Users can now enjoy brand-new parametric objects with details they can configure to fit their needs. Also, they can accommodate iterations and operate with agility.
SketchUp Pro takes your architectural design process to the next level, from early stages and model organization to final project delivery and everything in between. New functions let users draw parallel lines and duplicate items more swiftly. New features also help in material quantity calculations and uncover details, making the construction process more straightforward. Extension warehouse makes workflows more flexible with its hundreds of third-party add-ons to extend tools and features, reducing repetitive and complex processes.
See SketchUp's new logo to see the evolution.
LayOut 2022 introduces new Auto-Text tags, which can be selected from the Auto-Text menu in label creation or templated labels, and in addition to existing labels that pull entity or component attributes from SketchUp viewports. All labels can be used in scrapbooks or with transparent label leaders. The new and improved viewport-based Auto-Text labels allows you to use more of the information embedded in SketchUp models while composing documents, thus making your templates more powerful and efficient.
SketchUp Pro now features Search, which allows you to find and activate installed extensions and native commands quickly. Instead of wasting time trying to remember the name of a tool in SketchUp, you can quickly find it by typing its name or a workflow-related query like 'elevation', 'boolean' or 'chamfer.' If you're new to SketchUp, this tool helps you learn the UI and toolset so you can concentrate on your design rather than looking for a tool. For more experienced users, the Search tool reduces the amount of screen space devoted to toolbars.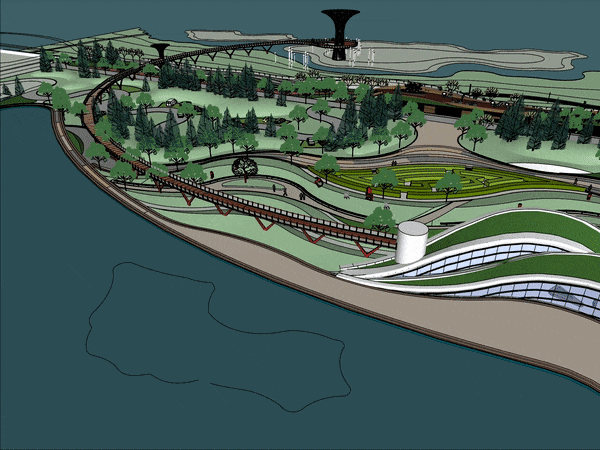 SketchUp made a big update to the Freehand tool. Organically drawn lines and Follow Me extrusions will now have more natural variance thanks to Freehand's smoother curve entities. Freehand's output is smoother, which allows it to create more segments. You can decrease the segmentation of a curve incrementally after it has been drawn. With each increment, SketchUp provides visual feedback. Axis locking can now be used to specify a drawing plane in Freehand, and it's now possible to draw across adjacent faces on different planes.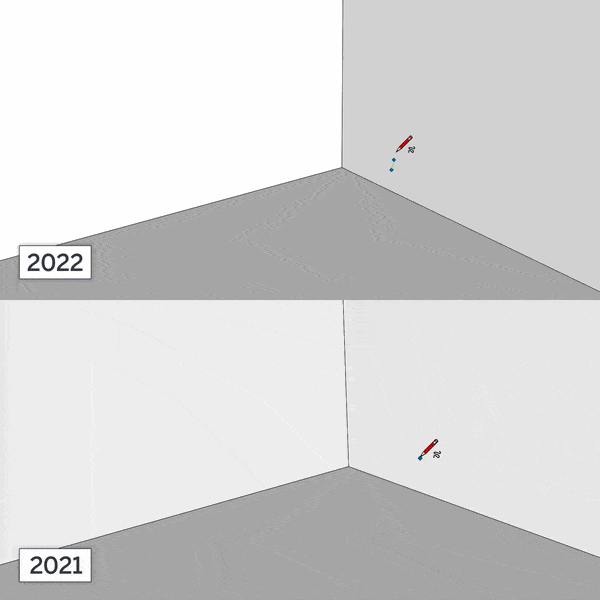 You can use the Lasso Select tool to draw custom selection bounds without having to reorient the camera. With stylus inputs, you can also create multiple discrete selections in one click-drag operation and select entities much faster.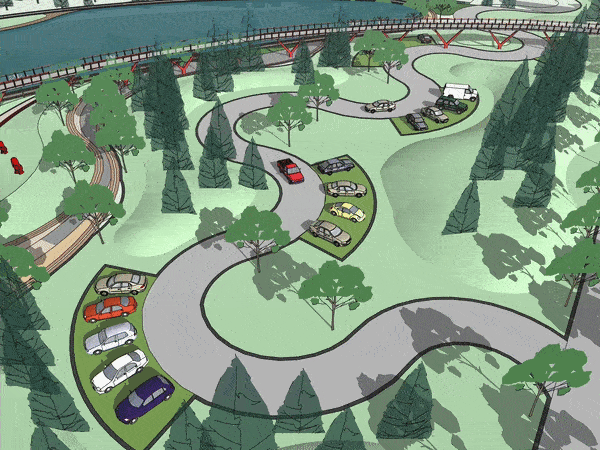 Tag allows you to apply tags to entities or pre-selected entities, which will help you organize your model more efficiently. By tagging objects directly in the modeling window, you can speed up model organization, quickly clean up unwanted tags, and improve reporting fidelity by bulk modifying the tagging of component instances.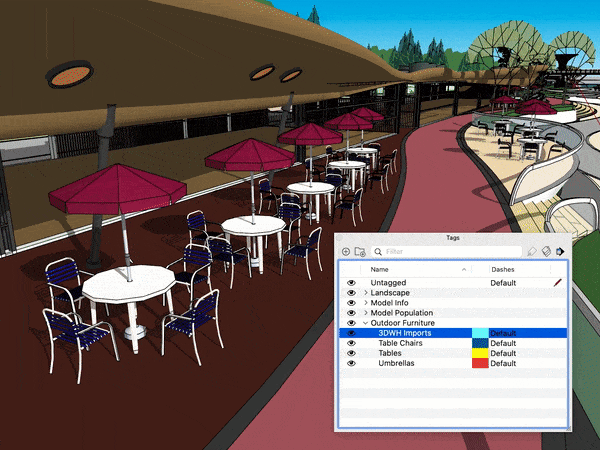 You probably conceptualize several different scenes to communicate the design details when creating architectural visualization outputs or construction documentation. As a result, long Scene lists with coded names must be scanned visually. You can now quickly identify and jump to your desired scene using Scene Search, a new search filter located adjacent to the Scenes tab.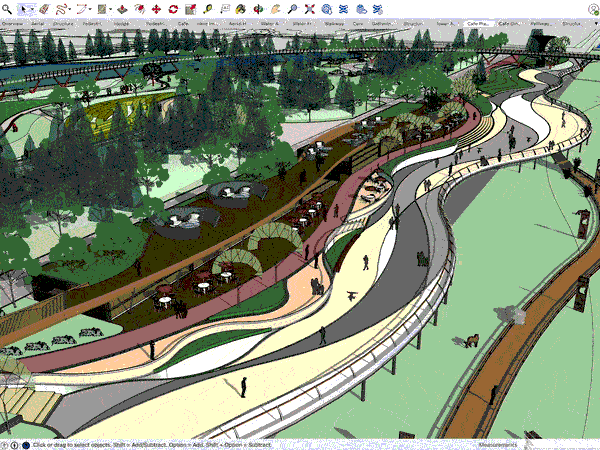 You can now quickly specify and lock arc tangency from an existing edge or arc using the new tangent inference toggles for 2-Point and 3-Point Arc tools. The tangent arc is not only more predictable, but it also allows you to create curved faces in less time.

Frequently Asked Questions for SketchUp Pro 2022
From start to finish, design your model to a whole new level. SketchUp Pro 2022 fresh features include:
What is Predesign?

–

PreDesign is a new web-based tool by SketchUp that improves design research before 3D modeling. PreDesign is available in the latest SketchUp Pro, Studio subscription, or an enterprise agreement.
How do I create tag folders and add tags?

– In the tags panel, click the plus sign to add tags and type a name on it, then press enter. Create tag folders to organize your tags.

Can I use tag folders with models that already have a bunch of tags?

– Yes. To place your existing tags into a folder, simply select desired tags and click the 'Add Tag Folder' button.

Can I put the same tags in different folders?

– Same tags can't exist in the same folder. In case you want to select different tags from different folders, you can use common naming prefixes across multiple folders. Then, use tag filtering to select common name tags from different folders.

Can I import tag folders from one model into another? –

Not yet. Importing a model with tag folders into an existing SketchUp model will only import tags from your imported model. If you need to build template models with tag folders, you can open those files directly (contrary to inserting them into existing models).

Why am I seeing objects from hidden tag folders in a section cut? –

This problem can be corrected when you select the tags within the affected tag folder and manually turn off their visibility.

In tag filtering, where is the tag filtering in LayOut? –

Tag filtering in LayOut's SketchUp Model panel isn't introduced yet.
What is SketchUp Labs? –

This is a new program that allows testing the features before they are ready.

What are Live Components?

–

These are configurable objects that can re-draw themselves in real-time. When you Buy SketchUp 2022 update, live components enable greater project scalability and are suitable for an array of applications such as architectural configuration, space planning, interior design, as-built modeling, and rapid iterations of concept or aesthetic.

How are they different from dynamic components? –

Unlike dynamic components, live components are actively developed and accessed via the web. The modeling capabilities of live components lead to cleaner and better geometry and object hierarchy, while dynamic components require all assets to be nested inside them, resulting in heavier objects. Compared to dynamic components, live components are more constructible and finished on more precise modeling practices. The live component also protects the author's intellectual property as the logic for the object lives in material.

Can I create my own Live Components? –

Not yet, but the improvements for the performance and stability of Live Components are ongoing.
How can I access SketchUp 2022? –

Users with the current SketchUp subscription have the access to the latest version.

How to renew SketchUp Pro Subscription –

Get your license, then renew Maintenance & Support and advance to the latest version of SketchUp Pro.

If I purchased a subscription for SketchUp Pro 2020, how do I get access to SketchUp Pro 2022? –

Simply sign out from the 2021 version and sign in to 2022.

I'm not seeing my licenses in the portal, where's my license? –

While there's no single portal to view all licenses at this time, users can check their information depending on the kind of entitlement they have from two portals: Account Manager and License Manager.

My SketchUp application isn't working, what should I do? 

If this is the case, do the following steps:

Ensure that you're using the latest version of SketchUp. 

Ensure that your computer meets the Hardware and Software Requirements of your SketchUp Pro version.

Try to reinstall your SketchUp Pro 2022, then run the repair option.

If none of these worked for you, kindly document or screenshot the issue and seek a support team.

How to fix issues with installing SketchUp Pro 2022? 

For Windows, navigate the folder where your SketchUp installer file is found, it is usually at the downloads folder. Then, attach the InstallShield.log file to your bug report. For MacOS, go to Finder, select Go > Go To Folder, type "~/Library" then navigate to Application Support/SketchUp 2020/_Installation_Logs_.
Create professional work when you Buy SketchUp Pro 2022 subscription. The price starts at 18,000srp. If you need powerful rendering software in the Philippines that combines real-time and photoreal rendering, avail V-Ray for SketchUp.
SketchUp is one of the leading CAD software in the Philippines. With its range of exciting new tools and features, the software has become even powerful to transform workflow and build a strong model foundation.
Seeking a reputable SketchUp Pro provider? Wordtext Systems, Inc. is a trusted I.T. store and an authorized seller of SketchUp in the Philippines. 
For more inquiries, call us at +63 2 8858 5555. Avail SketchUp Pro 2022 now.