We spoke to Mai Tran, who founded her practice, LIMDIMHOUSE Studio three years after graduating with a degree in architecture. Based in Hue, Vietnam, she discusses her unique design style combining traditional Vietnamese elements with modern touches. We deep-dive into her very Instagram-worthy project, Jalousie house, which is making waves on international and local architecture blogs. 
All images courtesy of LIMDIMHOUSE Studio unless otherwise stated. 
Peek inside the Jalouise House, and see how LIMDIMHOUSE created an airy oasis in the heart of Hue, Vietnam. Video courtesy of chimnon studio.
Tell us a little bit about your background and how you got started with

SketchUp.
I studied at Hue University of Science, majoring in architecture. After graduating in 2014, I worked at an architecture company in Ho Chi Minh. I started my own practice in 2017 to pursue my passion for creating iconic residential building designs using my ideas and styles. 
We've seen Jalousie House on several architectural and design websites across the web.
Tell us more about it.
There wasn't any brief, except that it's going to be a homestay residence. Therefore, we designed it to be a comfortable environment for people to feel imaginative and free. It was also somewhat essential that every area was Instagram-worthy, making it an inviting, creative place that people felt at home in. I was also particularly passionate about making it adaptable to the climate and location.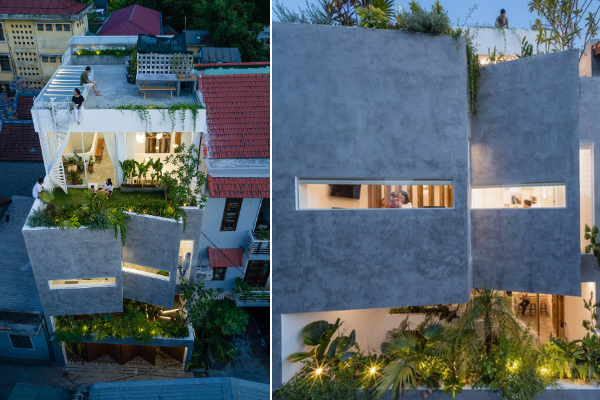 A unique yet simple folding façade contributes to the building's unique shape, making it easy to spot this homestay residence!
Houses in urban areas are built side-by-side, creating a high probability of poor air-circulation and light distribution. We also have high rainfall in Hue. We used folds and layers to create gaps for ventilation and water-proofing in response to this context and its associated climate.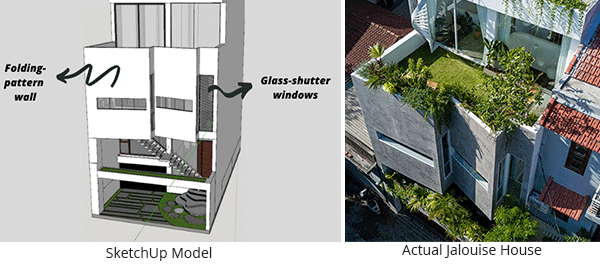 Folding-pattern walls block out harsh sunlight from streaming into the house. Glass-shutter windows are implemented at angles to escape harsh sunlight from the shadows cast by the folding-pattern walls.
The folding-pattern wall blocks out harsh sunlight and shields the indoors from rain, allows air to circulate in and out of the house unhindered. These folds further contribute to the unique shape of the building, making it simple yet striking. It's easy to spot this homestay residence!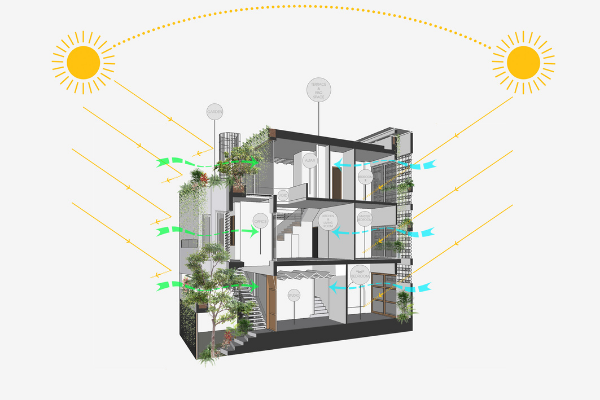 This diagram shows the sun path from morning to evening, illustrating that the folding-pattern wall blocks out harsh sunlight in the day, and the plants act as a filter to cool down the house.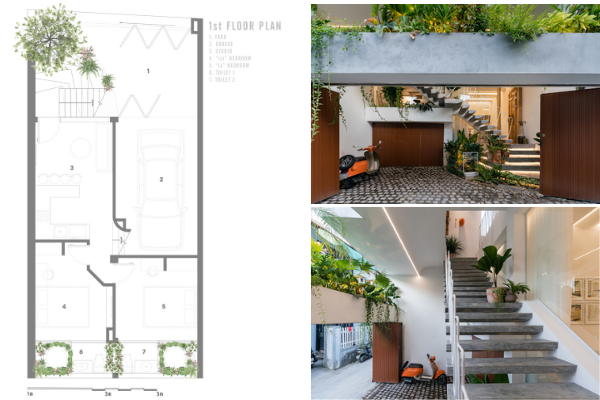 1st-story floorplan, featuring the garage, studio, and a bedroom. Woody elements bring a fusion of traditional and modern style.
At the back of the house, we constructed an indoor garden with top lighting to take advantage of the skylight and promote ventilation throughout the house. This green layer acts as a natural air-conditioner and filter that cools and cleans the air before it flows into the home. The indoor garden also doubles its use to provide an immersive, natural experience from the bathroom and bedroom.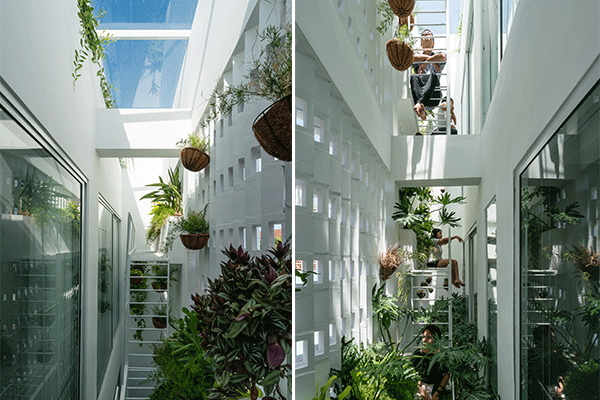 The indoor garden at the back of the house offers top lighting to bring natural light and promote air ventilation in the house.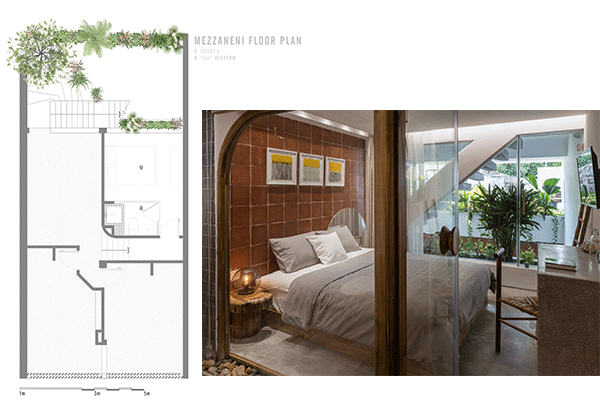 The mezzanine floorplan, features an immersive garden experience in the bedroom, with traditional-like wall tiles harmonized across all bedrooms.
Did you perform any tests on the layering systems to ensure they would work as expected?
I didn't do any tests; it was purely by experience and observation. I used SketchUp to have a good, overall understanding of the house based on the look and feel, flow, and design function. We used SketchUp's Add Location and Shadow study to imitate daylight in our 3D model. This enabled us to check how shadows would fall and ensure that the louver could meet our expectations in terms of design and functionality. 
We were pleasantly surprised when our proposal worked even better than we expected.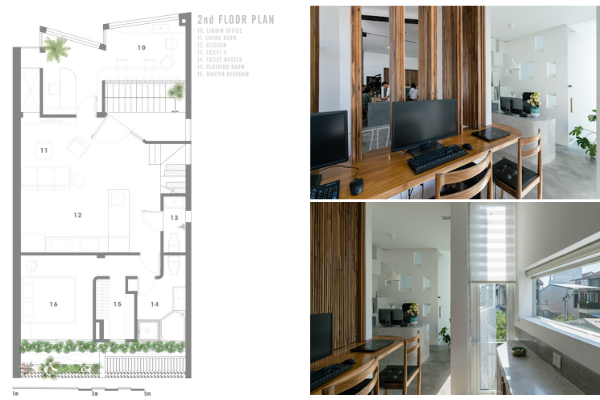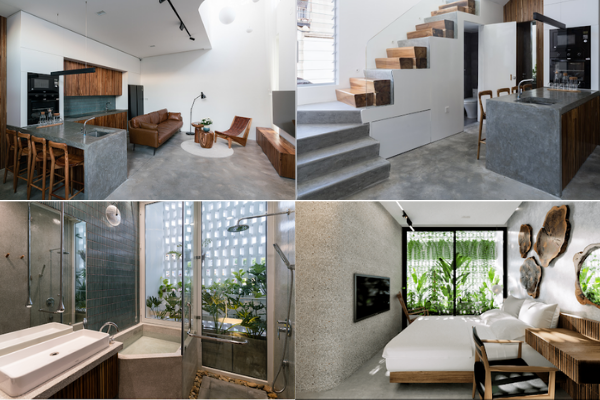 The 2nd story featuring the LimDim Office, living room, kitchen, master bedroom with an ensuite master bathroom.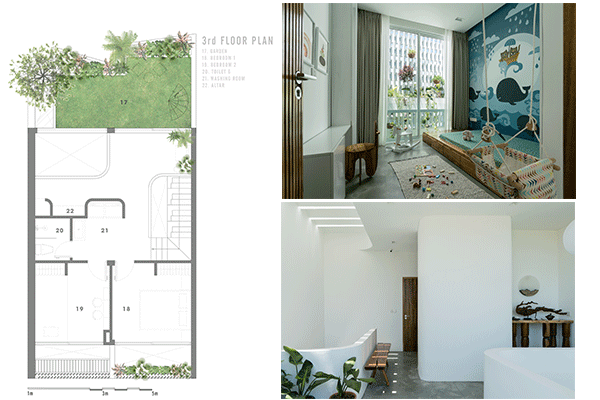 3rd-story floorplan, featuring two bedrooms, a garden, and an altar
What's your typical workflow?
We study the urban structure of the location, and then we brainstorm ideas. Then we create 3D models using SketchUp to test, visualize and analyze the house for best design options.   
SketchUp provides fast and accurate virtual representation. It's highly-efficient software that we can use on low-configuration computers in the office. When our team gets to the site, they can reference our 3D models and know what to do.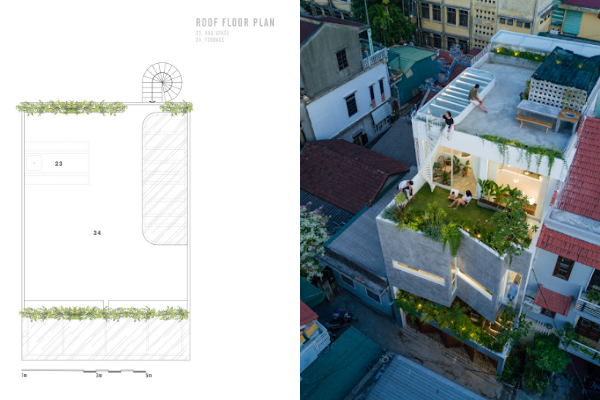 The rooftop is a place to relax and gather with friends.
What are your favorite plugins?
We don't require any plugins and only use native tools. Some of the functions we love are the ability to draw parallel lines and duplicate items quickly. It is also remarkable that SketchUp helps in the material quantity calculations and reveals details to make the construction process more straightforward.  

The breeze-lock system locks the air when it flows into the back of the house, creates a unique look day and night.
Established in 2017 by Mai Tran, the studio specializes in architectural design, landscape design, and renovation. Since 2015, the founder and associates have completed global collaborations with partners in the United States, United Kingdom, Canada, Australia, Singapore and more. LIMDIMHOUSE aims to bring a peaceful, airy, and soulful feel to their projects, so people have a dreamy place to chill and enjoy.