With remote working on the rise, your team's ability to collaborate at a distance has become essential— and, it's something we've been facilitating this for some time now. This is why we are proud to announce that Poly has the broadest portfolio of Microsoft Teams Certified headsets and personal speaker phones.
Poly and Microsoft go way back. When it comes to teamwork, the combination of Poly and Microsoft are more than simply a 'nice to have', it's indispensable to any organization committed to delivering the richest and most complete collaboration experience for their associates. After passing Microsoft Teams' stringent testing requirements, we are excited to announce a selection of our most popular headsets and personal speaker phones have been Microsoft Teams Certified. Poly offers the most complete Teams Certified end-to-end suite of high-quality headsets, speakerphones, desk phones, video solutions and software available to date. These products have been rigorously tested to ensure the best audio and user experience and have been thoughtfully designed to work flexibly and seamlessly with Microsoft Teams and Skype for Business – creating a one-stop shop for your organization's collaboration device needs as you make the journey to Microsoft Teams.
In this blog, we are going to focus on the Microsoft Teams Certified headsets and USB connected speakerphones – if you want to learn more about Microsoft Teams and how to prepare your company's network to migrate to Teams, visit this blog post.
WHAT DOES MICROSOFT TEAMS CERTIFIED MEAN?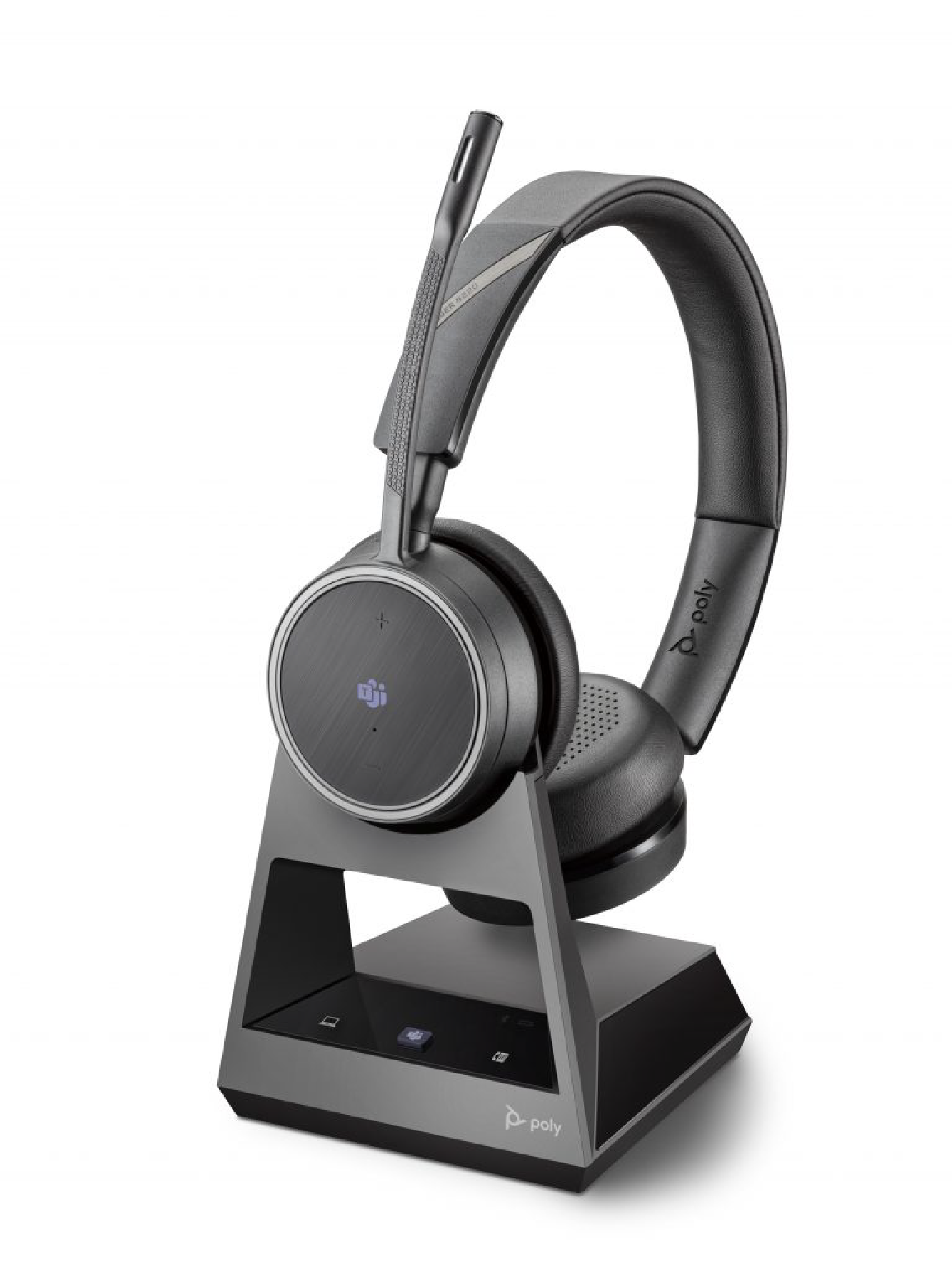 Just in case you didn't already know, Microsoft Teams is currently 'the place to be' if you're in search of a collaboration hub for your voice communications. To support this experience Microsoft has developed a Teams Certification for endpoints.  For devices to be certified, they need to meet Microsoft's audio requirements to ensure users get the best audio experience, they also must include a dedicated Teams button to instantly invoke Microsoft Teams for streamlined communications. Users benefit from the known quality experience of Poly UC headsets like the Blackwire 3300 Series (shipping now)— just one of our communications solutions for easy Microsoft Teams collaboration, conferencing, and notifications. And, the family keeps getting bigger. Poly has announced a number of Microsoft Teams certified versions of their new headset and USB speaker phone products which will be available May 2020. These include: Voyager 4200 Office and UC Series, Voyager 5200 Office and UC Series, Calisto 3200 and 5300 speakerphones, with more to follow.
FROM SKYPE FOR BUSINESS TO MICROSOFT TEAMS — WE GOT YOU!
As we are all well aware, technology tends to evolve pretty quickly— and, that's a good thing! However, what can be a pain is having to replace your all your company's hardware in order to embrace that change. Poly solutions allow you protect your investments by working with your current and future Microsoft collaboration platforms. This means you can rest assured that your Poly headsets and personal speakerphones certified for Skype for Business are fully compatible with Microsoft Teams, and even better, most will be re-certified for Microsoft Teams through a simple firmware update via the Plantronics Manager Pro Hub. This re-certification will improve the user experience by bringing the Teams application to the foreground when users press the headset call control button.
POLY IS THE TOTAL PACKAGE
Throughout an organization, different teams, roles, and workstyles will inherently have different needs – and, this especially holds true when it comes to hardware. Only Poly offers a comprehensive line of end-to-end devices and supporting services that are certified for Microsoft Teams. For IT managers, this means that they can count on Poly's global Professional Services team to provide support when it comes time to plan, deploy, operate, and support your Microsoft solution environment — including headsets — all through a single call.
So, when it comes time for your work environment to evolve, we'll be ready to ensure that change is as productive and seamless as possible.

Sources: https://blogs.poly.com/poly-headsets-microsoft-teams