The video conferencing system market has undergone a rapid evolution in the last several years as room system vendors have converged formerly separate components into appliances, added AI to improve voice and video experiences, and introduced tools to help enterprises better manage inventory and performance. The COVID-19 pandemic is further driving change as IT and business leaders seek flexible solutions for home and office, and insight into adoption and utilization. Even as meeting apps have moved to the cloud, and work-from-home has dramatically increased, now more than 72% of organizations have, or plan to buy room-based video conferencing systems, and 35% are increasing the number of meeting rooms and spaces that are equipped for video conferencing. As organizations plan for an eventual return to the office, employee expectation is that every desk, work space, and conference room will support video conferencing.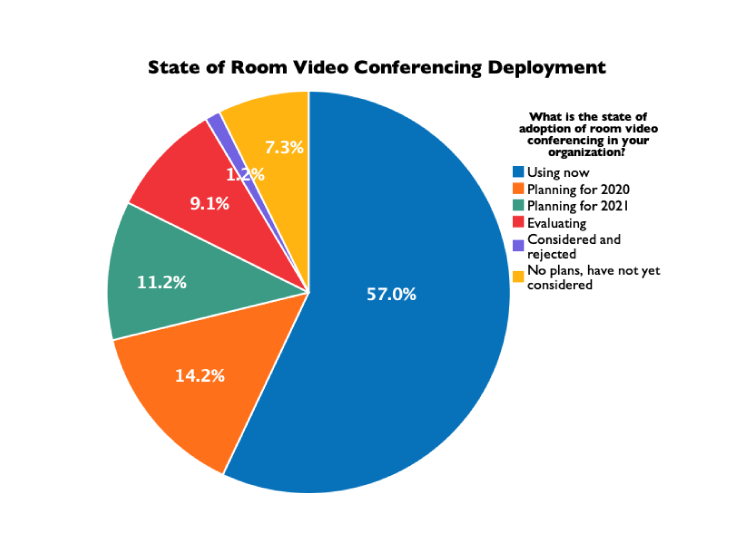 Pilothouse for Room Video Conferencing Systems 2020: Poly
Based on participating IT decision-maker and C-level participant input, Nemertes annually recognizes leading vendors with the Nemertes Pilothouse awards. These awards combine user sentiment data with quantitative measures of enterprise success in providing IT services to identify top-performing product vendors and service providers who are both highly rated by their customers, and who demonstrably help their clients succeed.
As a part of Nemertes global Visual Communications and Collaboration 2020-2021 research study, Nemertes gathered data from more than 525 end-user organizations. Participants were required to have purchasing authority or influence, and/or operational responsibility for video conferencing within their organizations
Data gathered included:
Customer sentiment ratings in which participants were asked to provide ratings of their video conferencing vendors on a 1-4 scale, in a variety of areas including product features, service and support response time, account team support, innovation, value, video quality, and voice quality.
Quantifiable return-on-investment, including cost savings, productivity gains, and increases in revenue, for video collaboration deployments from IT and C-level leaders representing more than 525 organizations.
Nemertes segmented those reporting positive ROI into a success group consisting of 62 organizations who had above average improvement in at least two of cost savings, productivity, and revenue gain.
To determine room video conferencing PilotHouse award winners, Nemertes analyzed:
Overall sentiment ratings received from all participating organizations
The percentage of participants in the success group that are using a particular vendor for their video conferencing needs
PilotHouse award winners represent vendors who had a higher-than-average percentage of their customers in the success group, and who also were rated above average by all participating customers.
In 2020, Poly has been ranked by IT decision makers and C-level executives being the only room video conferencing system provider in Nemertes study to achieve higher than average scores in both customer sentiment and business success. Poly customers rated products at an overall score of 3.22, above the 3.17 mean score, with Poly's best scores coming in product features as well as in audio and video quality. Approximately 35% of Poly customers were represented in the success group, compared to an average of 13% for Cisco, Crestron, Lifesize, Logitech, and Yealink.
Poly offers a wide variety of video conferencing solutions designed for room sizes ranging from huddle spaces to large meeting rooms. Its recent AI enhancements improve video quality, reduce or eliminate background noise, and enable automatic framing of meeting participants. More recently, its Poly Studio family line integrates microphones, speakers, camera, processor, and codec into a single appliance allowing for easier deployment and reduced operating cost. In addition, Poly provides cloud-based management software as well as professional and managed services to enable its customers to achieve both implementation as well as ongoing operational success. In addition, Poly has the widest partner ecosystem with native, certified products available for 8×8, BlueJeans, GoToMeeting, Microsoft Teams, and Zoom.