We're all reading a lot about remote working in light of the coronavirus, and the steps many companies are taking to help protect their employees. I've been an active participant in flexible working for the past seven years and can offer both rants and raves on various aspects. Yes, it's great to have the office dog, and yes, it's annoying to have to keep my home office pristine for video (but I'm thankful I have a home office and am not working from my kitchen counter). Through some trial and error, though, here are some things to keep in mind.
TIP 1: TURN YOUR CAMERA ON
Use the video service that your situation allows, and really, turn your camera on. I can't say this enough. Conference calls that are audio-only drive complacency, multitasking, and just plain not paying attention (remember this? Too true!). Video allows you see people, expressions, reactions, and personality. It keeps a key part of your brain engaged. Neuroscience has shown that video makes meetings more inclusive because mentally you parse the group as 'your' crowd.
Small tweaks make a difference — light in front of you, not behind you. If you're using your laptop camera, think about raising that laptop a bit – maybe on a few books, or in my case, a ream of copy paper — this prevents the camera from going for the 'nose-hair view'. I also recommend a bright lipstick, if that's your jam. My personal go-to is 'Regal' by Bobbi Brown.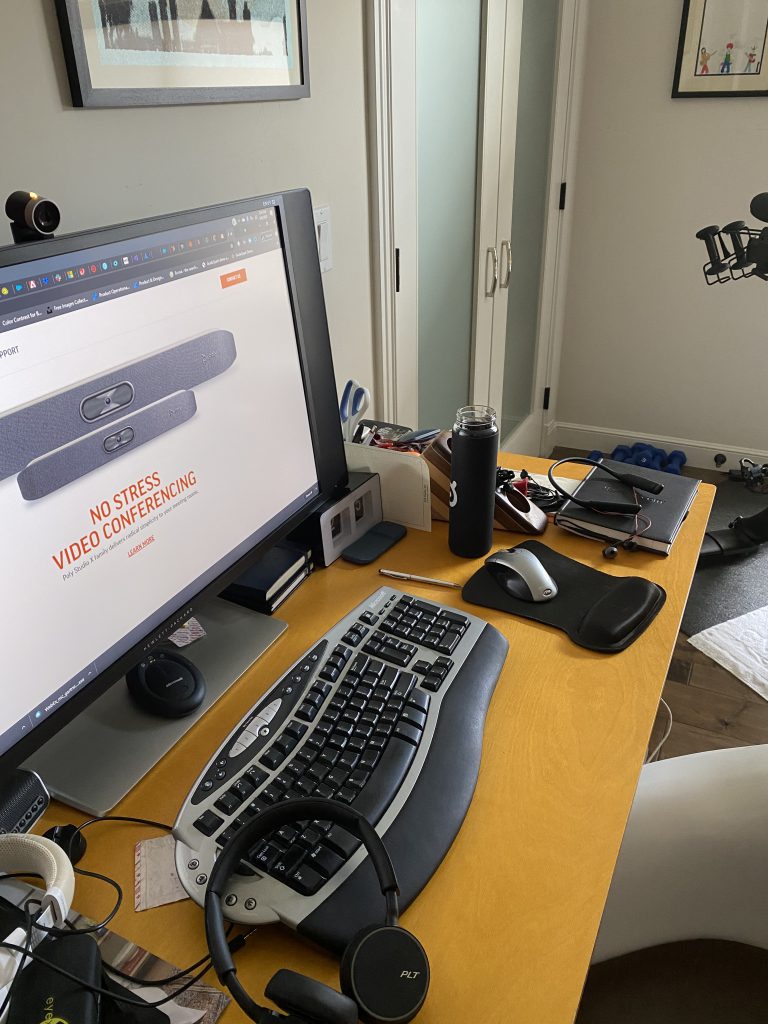 TIP 3: STAY ON MUTE WHEN YOU'RE NOT SPEAKING
Know where your mute button is, and don't be afraid to use it. Dogs, cars, leaf blowers, vacuums, family members… There are distractions at home that can be disruptive to others on the call. But don't forget that hitting the mute button means remembering to unmute, too.
TIP 4: PROFESSIONAL EQUIPMENT DOES MAKE A DIFFERENCE
Most laptops were not designed with audio capability that rivals what you get with a quality headset or speakerphone. The occasional call is one thing – but if you work from home regularly, it's another. Use a headset or a portable USB speakerphone that works with your communications software of choice, like Microsoft Teams or Zoom. That way you'll also have prompts to remind you when you start talking on mute – and, therefore avoiding that, "Sorry, Karen, we can't hear you… you're on mute" part of the call.
I've had days where I've checked my smartwatch early afternoon to discover I've only taken all of 13 steps… ouch! Set a timer to remind yourself to stand, to stretch, to check out another room in the house. It's important to stay active and to air out the cobwebs. In fact, a hidden benefit of WFH is that you can throw in a midday workout if your schedule allows. Whether that's a walk around the block or a quick ride on the Peloton (my choice), getting your heart and body engaged will make you more productive.

Sources: https://blogs.poly.com/5-tips-working-from-home