Designing, manufacturing, distributing and selling woodwork and furniture is a modern mass-production industry in many advanced regions of the world. Modern facilities are generally laid out like production lines, with each step in the construction process having its own "shop" within a facility. Each shop contains their own unique hazards and demands that effect both workers and machinery alike. A unique concern to many areas of a woodworking facility is the susceptibility to fire and explosions. Facilities are prone to this danger because they contain large quantities of items that could be used as fuel sources for a blaze. There's is an abundance of sawdust, wood, paints, oils, adhesives, solvents and liquid propane all used for different steps in the creation process. Equipment and machinery used near these vulnerable ignition sources need to be properly checked, maintained and cleaned to prevent a disaster. In addition to ignition concerns, equipment used in this environment needs to be durable. Heavy machinery, flying wood, debris and strong vibrations can cause breakdowns and equipment malfunctions if the equipment is not built for this type of harsh environment.
Within these production facilities, the constant flow of information has to be strictly maintained. With so many moving pieces and assembly lines, having large and easy to follow instructions is critical to the success of a final product. Additionally, since products are being constantly checked for quality control at each phase of creation before being passed along to a loading dock for shipment and packing, every component needs to have a clearly maintained production record. This could mean printing upwards of 10,000 different types of forms, reports and documents every day. These facilities aim to maintain a constant flow of production. A hold up in one area of the production line because of a paper jam, overheating or slow printing effects many facets and costs money in the long run.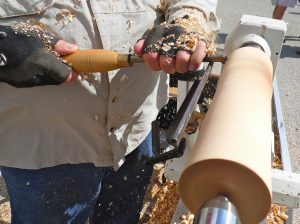 When the safety of your workers depends on the precautions you take with your equipment, every piece is important. A line matrix printer excels at meeting the rigorous requirements of a woodworking and furniture creation facility. Printronix P8000 Cabinet model is the perfect choice for facilities that operate under such harsh environments. Our line matrix printers have Kevlar reinforced tractor belts with metal pins, sheet metal enclosures and a completely enclosed cage to help keep unwanted dust, debris and hazards out. With sealed electronics and a heavy duty operator interface, companies can be confident their printer will withstand the harshest environments and continue to produce their vital documents and forms. Safety is key and keeping hazards out helps to prevent the opportunity for the machinery to become an ignition source, which is not the case with unenclosed laser printers. The ability to withstand higher operating temperatures while keeping sawdust and debris out of crucial components means there is no better choice printer for the woodworking and furniture production industry.
When a production line stops, money is lost. Having forms that are unclear, printed too small, need special functions or have other unique issues can be costly. Line Matrix printers keep up with the diverse demands of any print environment needed. Line printers are designed to accommodate single form and multiple form printing for Bill of Lading documents, invoices, reports, etc. Up to 6-part forms can be printed with high-quality and easy to read text and graphics, without compromising output speed. Text, graphics and barcodes can all be printed on the same form. Data can be printed up to 13.6" wide on paper stock that is up to 17" wide. With continuous feed paper the build/broadcast sheets needed on production lines can be printed to the length your business operations require. Large, scalable fonts allow workers to see exactly what needs to be completed, and these can be adjusted in size and quality as needed with an emphasis on bold or italic print to ensure ease of reading and minimize interpretation errors. In addition to the ability to accommodate all of the key printing needs of the woodworking and furniture production industry, Printronix line matrix printers are unmatched in high speed performance (up to 2000 lines per minute), which helps make any business more efficient.

Source: http://printronix.com/printronix-blog/how-line-matrix-printers-reduce-risk-in-the-woodworking-and-furnishing-industry/