As you embark on your digital transformation journey, modernizing and simplifying IT to accelerate business-critical applications is the new imperative. NetApp has been at the forefront of helping you modernize your data center and has been recognized as a storage leader. Although this recognition is an outstanding achievement, NetApp is not resting on its laurels. Instead, we are raising the standard with the launch of the new NetApp® AFF A400 system.
The new AFF A400 offers the power of secure data acceleration in a AFF storage system for the first time. The AFF A400 data acceleration capability offloads storage efficiency processing, thus delivering significantly higher performance. This capability enables you to capitalize on the exploding data growth from emerging technologies such as artificial intelligence (AI), machine learning (ML), and big data. You can also harness the benefits of this data acceleration technology for enterprise apps and databases.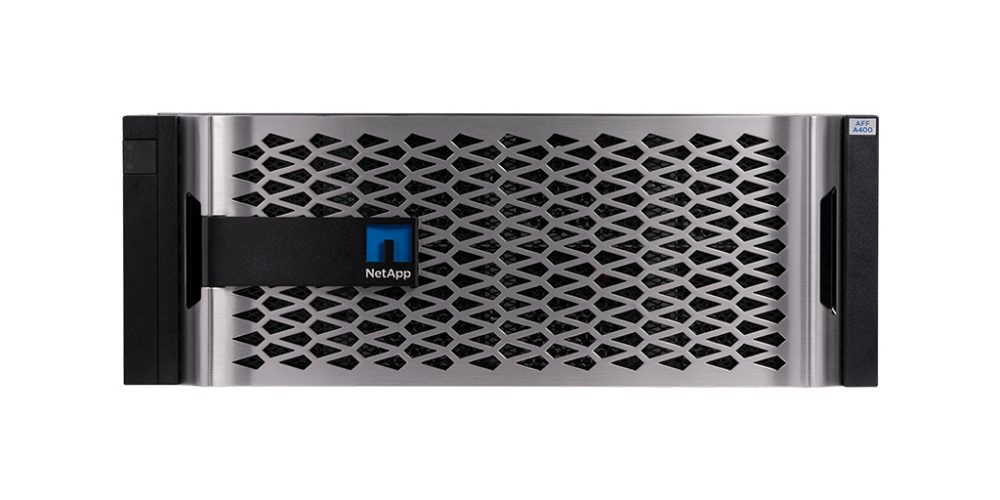 In addition to the new data acceleration technology, the AFF A400 system enables you to modernize SAN deployments with ultralow latency, end-to-end NVMe. The front-end NVMe/FC makes it possible to achieve the performance, scale, and operational efficiency goals of emerging workloads such as AI/ML, real-time analytics, and MongoDB. AFF A400 self-encrypting disk (SED) technology allows you to easily incorporate data-at-rest encryption in all your deployments with either the onboard key manager (OKM) or Key Management Interoperability Protocol (KMIP) servers. Finally, while enabling the latest end-to-end NVMe benefits, the AFF A400 also provides investment protections for AFF customers who want to continue to use existing SAS-attached SSD storage.
Today, we are also taking a giant leap forward in simplifying storage array management with the new NetApp ONTAP® System Manager. ONTAP System Manager is easy to use and insightful: With an intuitive GUI and smart defaults, it gives IT generalists an extremely simplified way to accomplish key storage tasks such as day-zero setup, storage provisioning by service levels, data protection, and performance awareness. Workflow optimizations such as the performance dashboard allow a quick and easy view of performance data for up to 1 year. And an intuitive global search, sort, and filtering capability at scale enables you to quickly find useful information.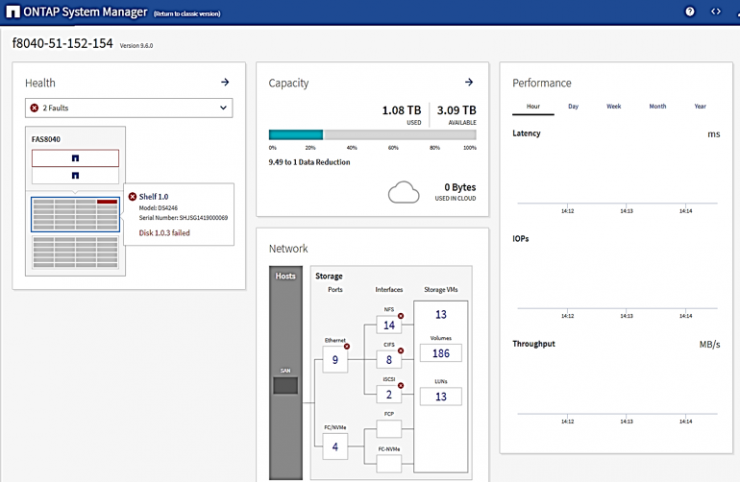 In fact, we are simplifying storage across the board, starting with how the AFF A400 system is sold, configured, managed, and supported. The new ONTAP software offerings available with the AFF A400 are designed to allow you flexibility to acquire software based on your deployment requirements. We are also introducing new support offerings with flat pricing for the life of the system that also include a new digital advisor with predictive capabilities and a high-touch support tier, setting a new standard.
As part of a digital transformation to modernize mission-critical applications running on databases such as Oracle and SQL, customers are looking for a cost-effective, no-compromise resiliency solution that is future-proof and has an easy path to cloud. The new NetApp AFF All SAN Array has the rich data management capabilities of ONTAP, and continuous data availability through symmetric active-active host connectivity and the instantaneous failover capabilities of ONTAP 9.7 make it the premier choice for anyone looking for investment protection with future-proof products and services. The All SAN Array is a new AFF configuration tuned for mission-critical SAN applications, and it will bring resiliency capabilities traditionally found in high-end SAN arrays to the new midrange system.
After testing the new NetApp AFF A400 storage system, World Wide Technology Solutions Architect Chad Stuart summarized its capabilities perfectly: "The AFF A400 combines NetApp's leadership in end-to-end NVMe storage performance with simple data management of the new ONTAP System Manager. This makes the A400 a top choice for our customers as they upgrade their IT infrastructure for their critical workloads running in a hybrid multicloud world."
With the AFF A400 system, NetApp is introducing a storage array that lets you modernize your IT. It merges the latest data acceleration technology with the ultralow latency of end-to-end NVMe storage. You'll continue to get the benefits of the industry-leading cloud integration and KeyStone consumption model to advance your journey into digital transformation. You can confidently start using AFF A400 systems for all applications and workloads without compromising on the reliability, availability, and rich data management capabilities that you've come to expect from NetApp technology. To learn more about NetApp AFF NVMe all-flash storage, visit the AFF A-Series All Flash Arrays page.

Source: https://blog.netapp.com/reinvent-your-modern-it-with-the-newest-aff-nvme-all-flash-storage/?linkId=100000008767891