The pace of digital innovation is accelerating across all industries in response to the COVID-19 pandemic. Whether you're a nurse or doctor on the frontlines of patient care, or a retailer providing food and other critical supplies to people on lockdown across the globe, artificial intelligence (AI) technologies play an instrumental role.
This blog highlights some important use cases and explains how NetApp and NVIDIA are collaborating to deliver AI-powered solutions that can help these critical efforts.
There have been a number of recent AI developments that demonstrate the important role AI is playing in the COVID-19 pandemic. In fact, an AI "early warning system" was among the first to detect the signs of the new pathogen emerging in Hubei province.


A recent STAT article identified a number of ways that hospitals are using AI to fight the disease, including:
Screening people who might be infected
Identifying high-risk patients
Screening frontline healthcare workers
Distinguishing COVID-19 from other respiratory illnesses using X-rays or CT scans
Medical Imaging and COVID-19
Distinguishing COVID-19 from other lung ailments using medical imaging is an area with significant promise, offering an alternative means of testing in situations where RT-PCR tests are in short supply or laboratories are backed up.
In late March, an open-source model called COVID-Net was released for this purpose. This convolutional neural net (CNN) was trained using almost 6,000 images from more than 2,800 patients. The researchers have released the training set—which includes examples of bacterial infections, non-COVID viral infections, and other lung conditions in addition to COVID-19—along with the model. Many similar modeling efforts are in progress in addition to COVID-Net.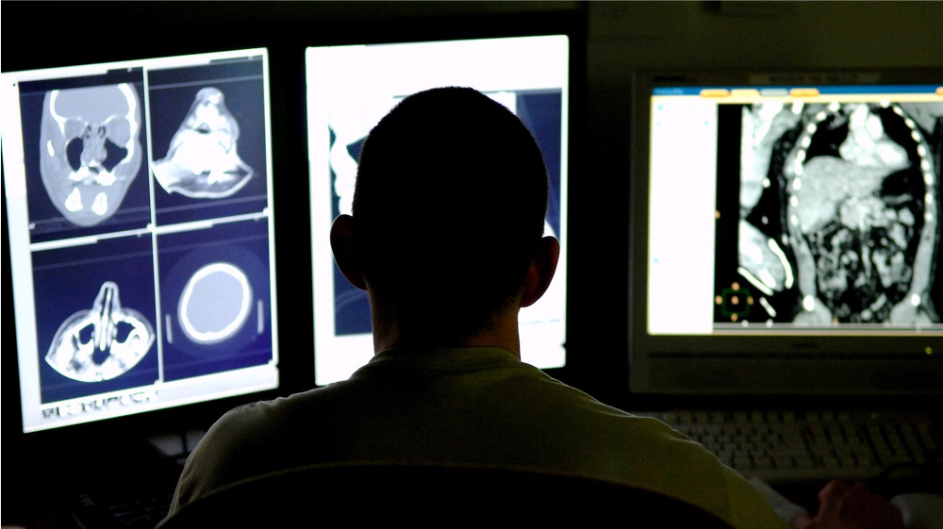 Medical Imaging Reference Architecture
NetApp recently brought to market an integrated medical imaging solution based on NVIDIA Clara Train SDK v2.0 leveraging NVIDIA DGX-2 and NetApp AFF flash storage that is well-suited to COVID-19 and other medical imaging classification and segmentation problems. The complete solution demonstrates a data pipeline architecture for image acquisition, data curation, AI-assisted annotation, and transfer learning to fine tune existing AI models.
For this solution, NetApp worked closely with the NVIDIA Clara team to create a full technical report, accessible at the following link: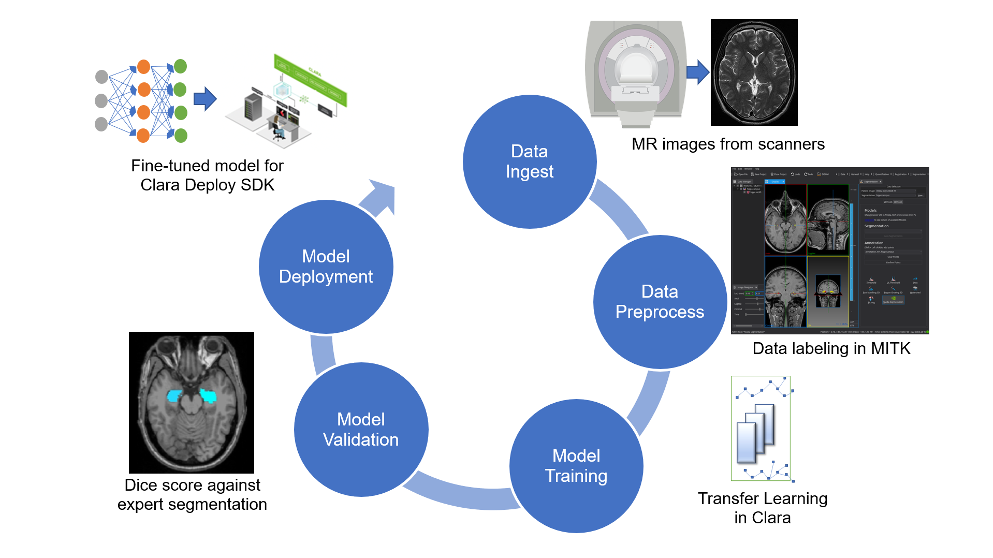 Medical School Turns to NetApp to Accelerate AI Pipeline for Lung Disease
While COVID-19 is rightly getting most of the attention right now, at least 250 million people worldwide suffer from chronic obstructive pulmonary disease (COPD), resulting in 400,000 deaths per year in the United States alone. Early detection and constant monitoring are needed to slow the progression of the disease.
NetApp data infrastructure capable of handling massive imaging data sets helped Hannover Medical School (MHH) apply an AI model to automate segmentation for COPD cases, reducing diagnosis time from hours to minutes. The method has the potential to reduce time-consuming manual tasks, minimize human error, and bring down costs, while scaling the number of cases that can be handled by a single physician.
NetApp was immensely valuable in providing performance and reliability to gain sustained flows of data. It perfectly matches our compute power and, thus, allows us to improve the image quality, accelerate the data pipeline, and run five times more data in the same time.
—Dr. Hinrich Winther, Resident, Institute for Diagnostic and Interventional Radiology, MHH
Free Access to AI Infrastructure for Genomics
AI and genomic studies are an essential tool in combating the pandemic. To help researchers accelerate AI-based genomics research, Core Scientific is providing free 30-day access to ONTAP AI, enabling researchers to take advantage of the combination of NVIDIA GPU computing and NetApp cloud-connected AI flash storage systems, in combination with NVIDIA Parabricks for genomic analysis.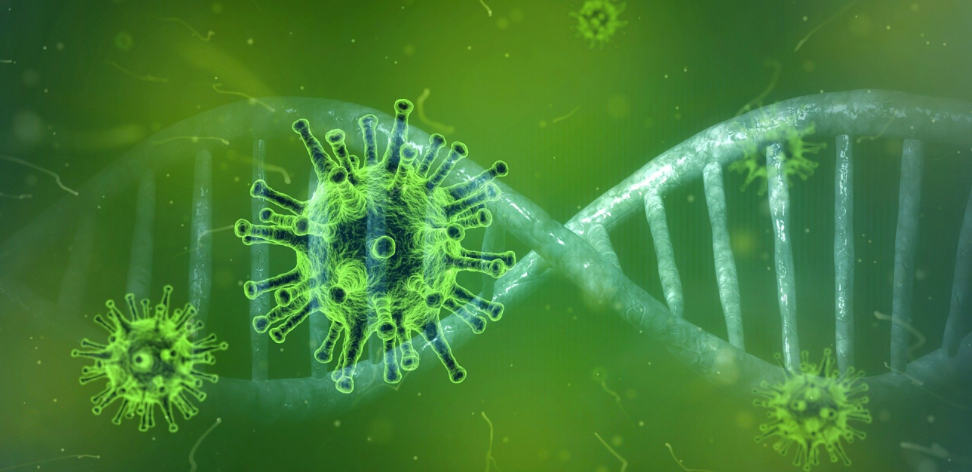 Additional NetApp Healthcare AI Resources
AI can also help ensure the supply of food and other goods to the billions of people on lockdown around the globe, including:
Helping manage supply chains in the face of unexpected demands and workforce disruptions
Providing a safe in-store experience by minimizing the risk of infection for shoppers and workers in groceries and pharmacies
Optimizing online retail and delivery in response to unprecedented digital orders
According to a recent National Retail Federation survey, 40% of companies are already seeing COVID-19-related supply chain disruptions. Companies that have made investments in AI are likely to be more resilient. AI can help supply chains improve prediction and demand forecasting, increase warehouse automation, and optimize delivery routes in the face of huge increases.
When I first heard about Amazon Go, I thought the technology was exciting, but I didn't necessarily see it changing my life. Now, every time I have to touch a smudge-covered pay point or watch someone else touch my groceries, it makes perfect sense.
While this type of cashier-less checkout technology is still rare in the US—and likely won't be deployed in time to have an impact on the current pandemic—our collective experiences will pave the way. A number of simpler stand-ins for the full suite of technologies are already appearing, including "scan and go" apps that take the place of both traditional and self-checkout check stands, allowing you to scan and bag items using your own phone, thereby reducing infection risk from shared equipment.
Eliminating Customer Service Bottlenecks
The combination of supply chain, workforce, and safety challenges faced by both traditional and online retailers puts a significant burden on customer service. Contact center call volumes are going up while the number of agents on the job is going down. This is one of the clearest areas where AI can help retailers significantly and quickly. An intelligent virtual assistant or chatbot can handle a large percentage of customer contacts efficiently without human involvement.
NetApp is demonstrating automatic speech recognition (ASR), natural language processing and understanding (NLP/NLU), and speech synthesis capabilities (text-to-speech, TTS). We have developed a virtual assistant for the retail industry, that will help companies deploy new capabilities more rapidly. NetApp's edge-to-core-to-cloud data management provides unique advantages for virtual assistants and other NLP applications with seamless data movement, replication, and data protection.
This assistant also has the potential for use in other industries, including healthcare.

Sources: https://blog.netapp.com/ai-combating-covid-pandemic