How to Effectively Close ​the SecOps Gap
Increase visibility and eliminate threats with Automated SecOps Solutions from BMC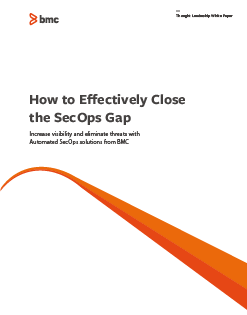 Breaches can be expensive, averaging over $3.9 million per breach. This puts pressure to businesses to prevent and stop security threats, meet the regulatory compliance requirements, and still govern their operations effectively as possible.

This white paper examines how companies are closing the SecOps gap with BMC solutions and are using automation to build security and compliance practices that satisfy the demand of digital business.
Start now, before it's too late.
Complete the form for instant access to this whitepaper.