Now, Samsung introduces a new innovative monitor called Space Monitor that enhances work efficiency by providing more desk space. When you are not using Samsung Space Monitor on the desk, revert to store flat against the wall to boost productivity and reclaim your desktop. Minimalized stand design reduces dead space occupied by existing monitors by 93% and increases desk space by 40%.
Samsung Space Monitor lets you use more of your work space. In side-by-side comparison on a 47.2 inch x 19.7 inch (120cm x 50cm) desk, the Space Monitor provides up to 40 percent more usable surface area than a conventional monitor of equivalent size (Samsung SD850).
With 4x the pixels of Full HD, the 31.5" Space Monitor delivers more screen space and amazingly life-like UHD images. View documents and webpages with less scrolling, work more comfortably with multiple windows and toolbars, and enjoy your photos, videos and games in stunning 4K quality.
Samsung Space Monitor stand neatly conceals its power/HDMI Y–cable in recessed chases to prevent tangling and keep your work space clear and free from clutter.
With its slim panel featuring a 3-sided bezeless screen, the Samsung Space Monitor offers an understated stylish solution for any workplace or home interior.
Samsung Space Monitor's stand employs a robust hinge that ensures consistent and reliable performance. Developed using Samsung technology and tested internally to withstand over 5,000 movements, the durable hinge assures smooth and precise screen positioning time after time.
Samsung Space Monitor's zero-level HAS (Height Adjustable Stand) allows easy positioning of the screen for optimum comfort and convenience. Its best-in-class adjustment span allows viewing from a height of 8.4 inches (213 mm) above the desk top (27-inch screen) all the way down to surface level.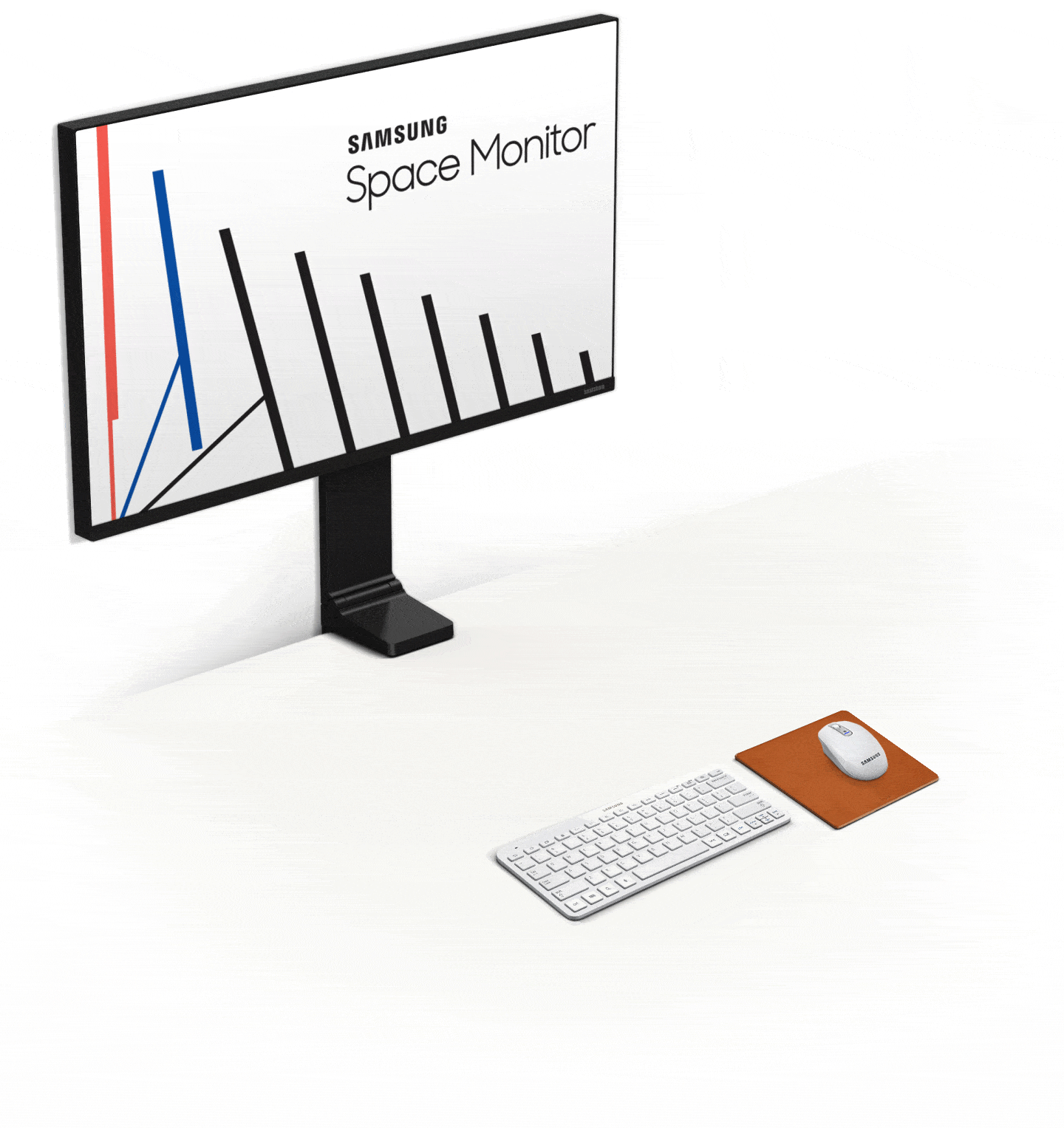 Samsung Space Monitor can be quickly and easily raised or lowered to the optimum viewing height for any user and any purpose, making it a versatile solution for use at home or in public spaces such as libraries.
PBP displays input from two sources on the screen at their native resolution. PIP lets you resize the second source to up to 25% of the screen and position it anywhere. And with Samsung's screen- splitting Easy Setting Box software, you can instantly arrange windows for optimal multi-tasking.
Samsung Space Monitor's stand features an integrated clamp for quick and easy installation. Adjustable up to 3.54 inches (90 mm), the clamp allows the Space Monitor to be securely attached to desks and tables with a wide range of thicknesses.