Dynamically reinvent the QSR industry with powerful, vibrant digital displays
Standing-out from the competition in Quick Service Restaurants (QSR) is sometimes harder than it sounds. That is why restaurants are relying on Samsung's QSR display solutions to highlight its products and services, creating a modern day customer experience.
Not only do QSR have to focus on the competition, it has to watch the mobile/app food ordering and food delivery services, as those are becoming more of a trend. With all these changes, the QSR industry has had to make rapid changes in how they present information to customers. Presenting menu items with vivid images, accurate information and orders being prepared correctly and promptly are more important than ever.
Samsung's QSR displays not only help these businesses meet those expectations, they help improve the three values to the industry – speed and accuracy, maximize profi ts and premier brand awareness. By digitizing and modernizing the QSR industry, Samsung's displays are the perfect partner for these businesses.
One of the keys to a QSR's success is the ability to provide customers with their food quickly and correctly. Samsung's QSR digital displays create an improved customer experience by offering them multiple ways to order their food that fi ts their needs. In the modern QSR setting, customers can now order their food via a self-service kiosk, mobile ordering or a drive-through line.
Samsung's digital display creates a great customer experience, but they can also increase the QSRs revenue by recommending premium or high-value items fi rst. QSRs can also customize appetizers, sides and meal plans they want the customers to choose from on the digital display, which could grow the businesses revenue.
Customer experience inside a restaurant is a key factor in driving return visitors. It's not just about presenting menu items, but creating a strong brand identity and positive brand experience. Samsung's digital displays create a modern and sophisticated interior at QSRs, increasing customer's perception of the brand.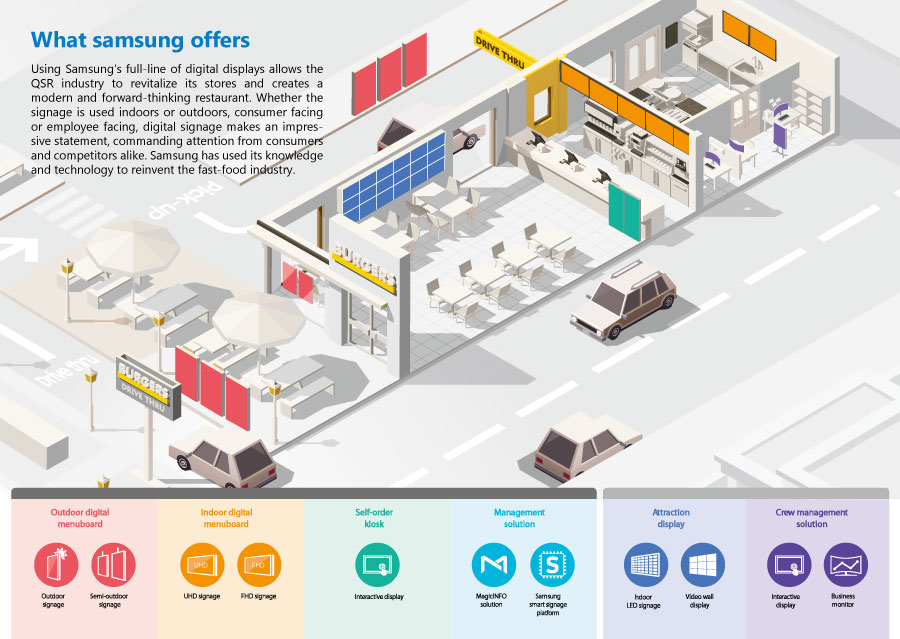 Outdoor Digital Menuboard
Deliver clear and precise information regardless of the weather condition
Samsung's outdoor digital was designed to withstand many different weather elements. From high temperatures, direct sunlight, rain, snow and even dust and dirt, businesses are assured that its digital signage will perform continuously with the most vibrant images available. The digital displays went through rigorous testing to validate the durability of the signage, from extreme temperature and moist chambers, Samsung ensured its reliability in any setting including vandalism.
Through rain or shine, Samsung's digital signage projects the most realistic and bright images for consumers as they approach the menu board. No matter the time of the day, light interference is banned, maintaining the brightness of the display at all times. Along with the vibrant images, the digital signage must be available 24/7, working around the clock. In addition, with its 2,500-nit high brightness, 5,000:1 contrast ratio and anti-refl ection glass, content will be visible under direct sunlight.
The outdoor signage is not only reliable, but it also has a sleek, all-inclusive slim depth design with an embedded power box. Also included is the fi lter-less, self-cooling technology that allows the display to be easy to maintain and a reduced TCO. With an easy to install process, businesses are able to assemble its digital signage quickly and effortlessly.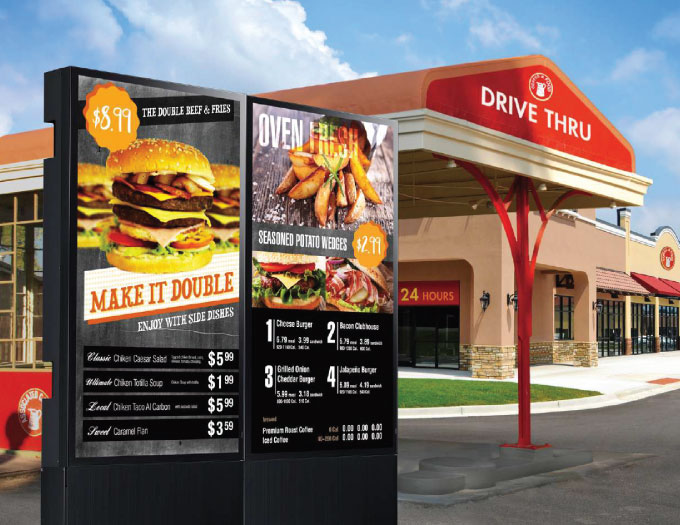 Outdoor Signage: OHF Series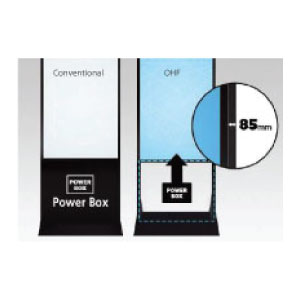 Durable design for outdoor usage.
Samsung's digital displays are designed with a sleek and strong built-in control box and network core, making this the ideal display for QSRs outdoor needs. Installation is simple and regardless of the users IT abilities, these digital displays can be operated effortlessly. Backed by the IK-10, IP56 guarantees, QSRs know the display will perform 24/7, without failure. Lastly, these digital displays include a state-of-the-art, non-fi lter cooling-system that is also energy efficient.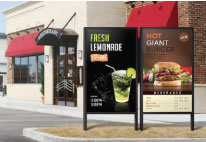 Robust performance outdoors
Samsung's QSR displays project a phenomenal 2,500-nit brightness for impressive images and text. With an unsurpassed 5,000:1 contrast ratio, all content presented outdoors is crisp and vibrant. Its circular polarizing technology reduces display blindness and the Magic Glass technology creates a durable, anti-reflective screen for easy visibility.

Semi-outdoor Signage: OMD Series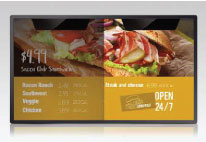 Brilliant presentation in any environment
Samsung's digital displays for the QSR industry allows businesses to attract more customers to its restaurants with its sleek design and outstanding visual performance in any surrounding. With the ability for businesses to tailor the brightness of a display to meet their needs, they are also able to manage their energy consumption with a sensor imbedded in the display.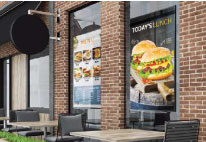 Powerful functionality with multiple operational uses
An ergonomic design and pivot abilities, Samsung's digital displays are an ideal partner for the QSR industry. The displays remain quiet even while in operation mode and its innovative design allows the display to have a constant and reliable connection throughout the business day while being energy effi cient at the same time.

Entice customers with highlighted menu items that true-to-life, increasing hunger
Designed to present customers with the most vibrant, clear and crisp content on any menu board, Samsung's QSR digital displays are the greatest compliment to any QSR. With its non-glare, high bright and contrast panel, QSRs present customers information clearly. Information on the digital displays should not only be enticing but should also be up-to-date. Customers need the most accurate information when making their menu section, and the displays ensure restaurants are able maintain menu selections at all times.
Restaurants also want the ability to feature menu selections or promotions when customers enter the business. Samsung's digital signage gives owners the opportunity to advertise premium menu items, highlight features, seasonal specials or specialty items with visual images to stimulate customers hunger, increasing revenue for the business.
Digital signage in a restaurant could also list the nutrition and allergen information clearly for customers to view, without being obtrusive or taking away from the ordering process. This detailed information is being asked by customers more and restaurants can address these concerns, creating a safe dining experience.
With enticing images, informed customers and recommended entrees, restaurants can easily manage its businesses with secure, remote hardware and software that can easily respond to change quickly and easily. Samsung's digital displays included the most state-of-the-art technology that gives users the ability to control single or multiple displays at one time effortlessly.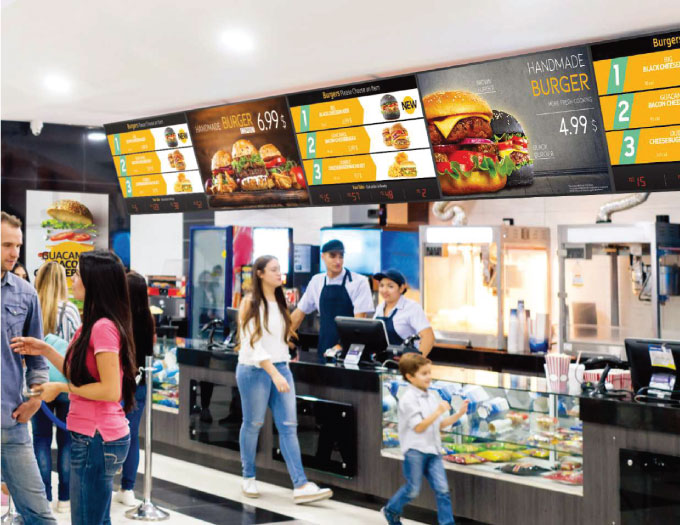 UHD Signage: QMN / QBN Series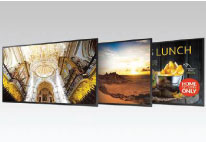 Intelligent picture quality
Whether a restaurant is featuring a new menu item or highlighting a limited-time promotion, restaurants need to provide clear and concise information to the customers at all times. Samsung's digital displays help businesses achieve these goals with its Intelligent Picture Quality technology. This technology transforms content from any source to UHD-level quality with optimized on-screen graphics, deploying food images that true-to-life. With Samsung's digital displays, restaurants are assured of consistent performance throughout each shift.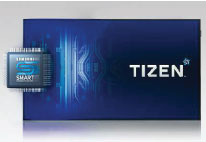 Extraordinary operating features
Samsung's digital displays have remote hardware and software capabilities that allow users to monitor the displays, regardless of their location. With its integrated technology, users no longer need to rely on a PC or media player, the display has it all included. Users effortlessly control the display with its flexible display management tools and are assured of it uninterrupted performance 24/7. Also included in the display is a state-of-the-art security system featuring Samsung's Knox and Tizen operating systems.

FHD Signage: PHF / PMH Series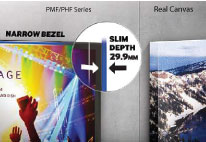 Clear content delivery with slim design
Samsung's TIZEN-powered PMH series is not only powerful but is also a sleek and sophisticated display. For use in any business setting, the PMH series' robust picture guarantees brilliant images, no matter the material being presented. Built to be reliable and long-lasting, this display performs with continuous pictures enabling consumers to be assured their messages will be delivered as expected.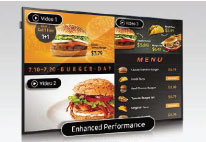 Advanced user friendly tools
QSRs are looking to modernize its environment and are beginning to incorporate Samsung's digital displays throughout its stores. Samsung's digital displays with FHD picture quality, allows users to incorporate an entry-level display into their businesses at a reasonable price and without sacrifi cing picture quality. Included in these models are convenient pivot functionality for displaying content in many different directions. In addition, the displays work with little noise, not taking away from the content being delivered while being energy effi cient.

Accelerate the ordering and checkout process with digital signage
Self-ordering kiosks introduced to QSR allow customers to place their own order instead of waiting in line, increasing customer satisfaction. With vivid imagery of the menu, customers can choose and customize their order with ease with little engagement with the staff.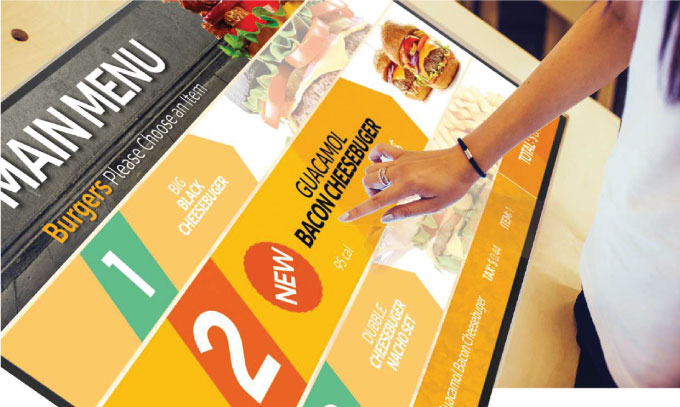 Interactive Display: PMF-BC Series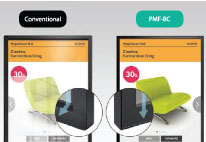 Comfortable, multi-point capacitive touch communication
Through capacitive touch technology and a user-friendly design, samsung's PMF-BC displays foster a comfortable, easy-to-navigate digital writing experience. The interactive displays can accommodate 10 Unique touch points* while maintaining the smooth, familiar feel of analog board or pen-and-paper writing, and without interference from dust, sunlight or other natural variables.

*The number of available touch points varies depending on confi guration. Connected external pcs provide the PMF-BC display with 10 touch points, while the integrated operating system supports two additional touch points.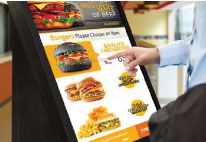 Take control at a QSR with Samsung's self-service kiosks
Samsung's impressive digital display includes a robust glare-free panel that is not only dependable, but also built with a dust-resistant design. The display was developed to have consistent, 24-7 performance but also be resilient and powerful. The unyielding design does not allow dust in the display and includes an anti-glare panel to tolerate any environment.